Ribbon and IBM Partner to deliver Unified Communications as a Service
Communication, collaboration and remote capabilities have always been an integral part of how companies relate with customers and shareholders – and the COVID-19 pandemic has thrust these business drivers even further into the spotlight.
To help businesses stay at the leading-edge in the application of these core tools and strategies, IBM and Ribbon Communications have partnered to create an innovative unified communications service ready to deliver powerful results.
Ribbon Director of Solutions Marketing, Greg Zweig, joined host Tyler Kern to outline that solution and provide insight about how it will shape the way businesses communicate and develop customer experiences not only during this uncertain period, but well into the "new normal" that is sure to follow.
"Ribbon and IBM have actually been working together for a number of years, and, as a result of this COVID-19 situation, we were lucky enough to come up with a way to be able to offer IBM customers no-charge, cloud-based unified communications licenses for our Smart Office Collaboration suite," Zweig said.
Smart Office Collaborations is Ribbon's suite of intuitive, powerful communication tools for delivering voice, video, instant messaging, and more across desktop and mobile devices, allowing users to gain a common experience across virtually any device and reduce the cost and complexity of traditional unified communications deployments.
This innovative unified communications as a service, or UCaaS, approach for IBM customers offers a key avenue for companies to remain engaged and productive during this unprecedented time, Zweig said.
"As many companies are struggling, and their employees are struggling, to figure out how to work more effectively from home, having some free licenses – and these are available through June 30 of this year – really helps bridge the gap between working in the office and working at home," he said.
It's a simple offering, but also a robust one. With this free license, companies will empower their employees to work from any device and connect quickly and efficiently anytime, anywhere, 100% virtually.
Combined with third-party integration, custom colors for branding, live-call switching, and IBM's unique ability to serve any company, of any size, anywhere on the planet, it's a truly unmatched offering.
Innovating in this space is nothing new for Ribbon – the company prides itself on helping customers "modernize their networks for improved competitive positioning and business outcomes in today's smart, always-on and data hungry world."
To learn more about the Ribbon-IBM offering visit rbbn.com/IBM-work@home.
For more B2B thought leadership and expertise, visit MarketScale's industry publication pages.
Latest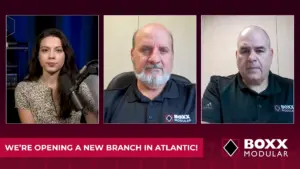 December 4, 2023
In an era where construction innovation is reshaping the industry, modular construction's growth continues to rise. In this episode of Built Modular, Boxx Modular's strategic expansion into Moncton, Atlantic Canada takes center stage. Host Gabrielle Bejarano welcomes Charles Landry and Ray Girouard to explore the implications of this venture. Bejarano, Landry, and Girouard discuss […]
Read More