The History of Theme Park Innovation: How Bold Roots Have Grown into Remarkable Experiences
The themed entertainment industry is one that knows how to leverage cutting-edge technology to deliver memorable experiences – but it didn't reach its current heights without the willingness to take some bold leaps of faith.
And those risks weren't confined to smaller players looking to make a name for themselves in the world of theme parks and themed entertainment. Some of the industry's true juggernauts, such as Disney, have been leaders in the march toward powerful innovation, as well.
Let's go back in time to explore the relationship between leisure and innovation, which forms of innovation are possible, where technology has the greatest impact, and which services technology integrators and experience designers like Electrosonic offer today that are set to help themed entertainment surge back to the forefront of entertainment and memorable experiences.
Humble Beginnings: Starting with a Powerful Idea
Successful entrepreneurial stories often start with a strong business idea or concept, and the genesis of many innovations for theme parks and attractions is no different. Themed entertainment experiences often start with a basic idea that engaged a local audience to visit a place, enabling them to invest in greater expansion after taking care of that community market.
This highlights a central fact about the industry – technology and innovation are not just aspects of an overall development budget, but an important value and core cultural commitment for successful leisure enterprises.
The period from the 1950s through the 1970s brought about a core era for growth in the contemporary theme park industry, as a strong American middle class was being established and personal transportation became a common good.
The baby boom following the second World War guaranteed a large number of families seeking to spend time together, and expanding labor rights allow for more free time to do just that.
Finally, long-distance travel options and new forms of transportation, such as passenger air travel, grew in importance, making new destinations accessible. This mix of ideal economic conditions, combined with innovations during the time period, formed a perfect foundation on which to build the modern theme park concept to be developed.
A similar "perfect storm" unfolded in Europe, with new innovations and attractions reshaping pleasure gardens and driving new experiences. Unique offerings were key to transporting families to worlds of imagination and wonder, but also to attracting audiences from further away. Before large attractions became the norm, concepts were introduced, and smaller innovations and storytelling were at the core of what would later morph into the iconic skylines we recognize at the theme parks and attractions today.
Continued Innovation Drives New Possibilities in Themed Entertainment
With the themed entertainment industry enjoying a Renaissance of sorts – a perhaps a true beginning – innovation empowered rapid expansion.
Some of the core aspects of theme park development, such as storytelling and construction, have and always will play a significant role in these experiences, but the impact of technology began to increase on its way to becoming a truly intrinsic part of leisure development.
In order to understand how leisure businesses innovate, we need a clear picture of the ways innovation is possible. Innovation can take place in different areas in leisure businesses, and innovations in one area can impact innovation in another.
Product/Service Innovation
The first type of innovation is often the most visible, as it concerns new products or services being launched. It can also be a new addition or a new method for presenting a product. A completely new theme park or a new ride system, such as dark rides, state-of-the-art projection and mapping, etc., can be considered a product innovation.
For example, an important example of service innovation that we see today are the cashless systems increasing efficiency among staff and increasing in-park spending.
Process Innovation
These innovations refer to "backstage" activities related to access, internal communication or logistics. Operational innovation relates to how the products, services and processes are put into place, and improving efficiency in an attraction's daily operation, such as a boost from automation of routine, formerly manual administrative tasks, can be considered a process innovation.
Managerial Innovation
This refers to innovation related to human resources. Attractions are mostly about attracting talent and letting people develop careers. With managerial innovation, teams that operate and develop the theme park are empowered to remain motivated and are rewarded for continuing the success story.
Management Innovation
Management innovation is on another level and can exhibit spillover effects, particularly in managerial and process innovation. It mainly concerns organizational design, strategy, marketing, finances, leadership and human resources management for an attraction's development.
Governance Innovation
Innovation can also happen at the level of administration, affecting the manner in which leisure is understood, lived, experienced and offered.
Examples of Themed Entertainment and Leisure Innovation Over the Years
Disneyland, Anaheim, USA
The success of the leisure industry, in many ways, mirrored Disneyland's development in the 1950s. Announced in front of a television audience by Walt Disney himself, the park had to meet and exceed high expectations when it opened in 1952.
A continued sense of innovation and a desire to "plus" the park, combined with the shared philosophy that "Disneyland will never be finished," led to many improvements that have continued to make it a source of inspiration for the global leisure industry today.
The combination of an authentic, themed park, powered by Disney's global movie franchises, impressive quality, theming, innovation and storytelling, has led to the most popular theme park concept to date.
Here are some of the key technology and business innovations Disney has brought to the industry:
"Plussing" procedure and ride technology: The roots of the Disney Enterprise sit in its studio productions. When Walt Disney had the idea to start a theme park, one of the key tenets of the execution was his drive for perfection. Namely, when he released a movie and received feedback from the audience, he was unable to adapt it. With a theme park, Walt's belief was that it could continue to evolve, change and expand. He said, "As long as there is imagination left in the world, Disneyland will never be finished." The Disney teams continue to "plus," or improve, the parks with additions of new storylines and details, improved ride experiences and expansion of offerings. Recent examples include automated interaction during live shows, RFID bracelets for cashless payments, and combining park entry, resort transportation, and hotel room keys in one device.
Forced Perspective: Another form of innovation Disney brought to attractions development was the integration of movie set philosophies into theme parks. When building "It's A Small World" for the World Expo, a ride which was installed in Disneyland later, designers diversified the size of certain buildings to make certain buildings look larger and have a positive impact on the immersion of the guest. In rides, this technology is now used by integrating both physical sets and projection technology.
Audio Animatronics: Walt Disney's development of the Enchanted Tiki-Tiki room brought him to the idea of creating life-sized, singing robot birds – robots that look like birds and could sing, move and talk to the audience. This innovation has evolved alongside new ride projects all around the globe, from attractions like Pirates of the Caribbean to the Haunted Mansion and, later, Splash Mountain and Expedition Everest. The storytelling tradition is loaded by hosts and figures telling a tale in front of the visitors' eyes, bringing the scenes to life.
Universal City, San Fernando Valley, USA
People have always been inspired to take a peek behind the scenes in the film industry. Initial studio tours have now evolved into a full-scale, movie-themed park that helps visitors get a feel of what film industry is about.
Universal Studios opened as a theme park in 1964. Combining movie technology and advances in technology with visits to authentic film sets drove the initial success of this living movie city, and it continues to be a driver for theme park innovation around the world.
Here are some of the key technology innovation stories from Universal:
High-capacity studio backlot tours: Universal Studios has kept loyal to the concept of its original studio lot tour. When the park scaled up its offering, it needed to integrate the studio tour into a holistic offering that was able to get through a high hourly capacity. By introducing the studio tram tour with automated loading procedures, it was able to implement new technology to do just that.
Multi-sensory dark ride technology: Universal Studios theme parks are known for some of the most ambitious dark ride projects in the global leisure industry. The innovation of 3D technology, combined with trackless ride systems, the latest new projection technologies and the implementation of a high-capacity robo-coaster, has made Universal Parks and Resorts a leading player in ride innovation and story immersion.
Efteling, Kaatsheuvel, Netherlands
It was on a peaceful spring day in May of 1952 that Efteling first opened its doors on the fields of a public sports park. In many ways, Efteling was a pioneer in the development of the European leisure landscape, but it all started with a strong vision between creative designer and painter Anton Pieck, filmmaker Pieter Reijnders and the mayor of the city of Kaatsheuvel.
That perfect match between storytelling, innovation and business opportunity drove key innovations like:
Garbage innovation system: Development started with the parks' fairytale forest. Based on the wonderful landscapes of Pieck, unique themed environments of storytelling were created. To tell the stories, small innovations were invented to amaze the audiences that visited them. From magnetic fields to mirrors, solutions were integrated to create special, memorable effects. Even the garbage system of the park was developed in a similar way in the now infamous Holle Bolle Gijs garbage can concept. Highly themed Efteling-style statues, under which a garbage can is installed, thank visitors kindly when they throw paper and garbage through their open mouths.
Authentic animatronic technology: Each time a story in the park was developed, engineers were there to bring a sense of immersion and surprise. In the 1980s, the park was expanding on a larger scale and constructing multiple dark rides. One of them, named "Fata Morgana," brings visitors on a boat toward scenes of the Middle East. The ride technology adapted was advanced at the time, with 140 animatronics specifically created for the attraction. The park also filed for a patent for the ride technology exclusively used in this attraction.
Europa-Park, Rust, Germany
The Europa-Park success story started after a tour of the U.S. by founders Franz and Roland Mack in 1972. Inspired by what they saw in the States, they shared the opinion that a theme park with attractions for all ages would be ideal to complement their Mack Rides business.
At the same time, they wanted their park to become an exhibition space for innovative rides systems other park developers would want to visit. While the other German parks were focused more regionally, the Europa-Park concept was envisioned to attract a wider audience from the start.
Among many reasons for the continued success of Europa-Park was the continued sense of introducing new ride technology and innovations to the park, combined with offering high-quality, highly themed environment.
Here is one of the park's key technology innovation stories:
Water ride technology: Europa-Park was founded with strong know-how from the Mack family in innovative ride technology. The factory for rides in Waldkirch, named Mack Rides, is a global manufacturer of rides and attractions, such as roller coasters, water rides, flat rides and more. Mainly, its high-capacity water rides have been among key innovations introduced by the company, and prototypes have been installed in Europa-Park that are still in the park today.
How Social Connections Differentiate Digital and Physical Leisure Experiences
In comparing digital and physical leisure experiences, there are quite a few similarities. Both aim to transport the consumer to another time and place, away from daily concerns and worries. The difference, then, mainly arises from the social aspect of these experiences – a divide that was brought into the spotlight during the onset of the COVID-19 pandemic.
Digital leisure experiences, while being able to be enjoyed by a large group of people at the same time, is considered to be less of a social experience. Physical leisure experiences are all about togetherness, not only in the actual visit but in the travel, creation of shared memories, and more.
However, this isn't to say the experiences can't work alongside one another. In fact, they're often complementary and can strengthen and support one another.
As physical and digital experiences merge, attractions become a place where the newest digital leisure can be experienced in the physical realm, and the physical leisure experience can be lengthened in a digital form as an extended, at-home experience.
Crafting the Themed Entertainment and Leisure Experiences of Tomorrow
Development and innovations in the global leisure industry were driven by operators striving for excellence in the development of their business.
They used knowledge and expertise gained via success in their related fields and combined this with a passion for storytelling, innovation and construction to create an industry known for its constant search for improved experiences.
These successful cases from the past show us how the leisure industry can compete with new forms of leisure consumption and new, digital competition.
By embracing the opportunities that technology offers, we can continue to push the boundaries of innovation in a way that make attractions even more enjoyable and efficient.
Electrosonic has been a partner in developing attractions for over 50 years and offers the latest new innovations in designing, building and supporting audiovisual innovation.
Our experts are ready to discuss your vision for your attraction and support you with the right solutions to make your project a reality. To learn more, contact us today.
Follow us on social media for the latest updates in B2B!
Twitter – @MarketScale
Facebook – facebook.com/marketscale
LinkedIn – linkedin.com/company/marketscale
Latest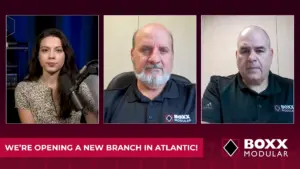 December 4, 2023
In an era where construction innovation is reshaping the industry, modular construction's growth continues to rise. In this episode of Built Modular, Boxx Modular's strategic expansion into Moncton, Atlantic Canada takes center stage. Host Gabrielle Bejarano welcomes Charles Landry and Ray Girouard to explore the implications of this venture. Bejarano, Landry, and Girouard discuss […]
Read More