Thirdera aims to further revolutionize productivity with ServiceNow's Knowledge 2023
As businesses become more reliant on technology and technology progresses at lightning speeds, knowledge events have become increasingly popular. In fact, the global market for Knowledge Management in 2022 was estimated at $569.6 billion and is projected to reach $2.4 trillion by 2030.
ServiceNow, a leading digital workflow company, has announced its highly anticipated Knowledge 2023 event, which is set to take place from May 15th to May 19th, 2023, in Las Vegas. ServiceNow promises that attendees will learn about the latest technologies and innovations, including the company's cutting-edge digital workflow solutions.
For Prabjoth Saimbhi, Director of Strategy & Innovation for Thirdera, attending knowledge events is all about supporting customers in their digital transformation journey, and he's especially excited for Knowledge 2023. Thirdera is a technology company designed to help businesses successfully integrate ServiceNow's cloud-based platform for automating and digitizing workflows. As such, Saimbhi plans to take what he learns at Knowledge 2023 back to his company to help clients further take advantage of what ServiceNow has to offer.
Prabjoth's Thoughts:
"I am super excited to be going to my fifth in-person knowledge event this year. Having formally gone as a customer and employee of ServiceNow, I'm super excited to get in that buzz of that general excitement for everybody wanting to be able to innovate and transform in their organizations. 'Cause when I was a customer, we were so eager to be able to fill the gaps that we had in our road map, be inspired by new capabilities, and then go home and be able to share what we're capable of doing next. When I was a ServiceNow employee, we were excited to be able to be part of those genius bars, those breakouts. And now, going as the largest pure player partner in the world's third era, we just want to be able to put that armor on our customers and to be that trusted advisor and just assure and implement their next journeys in their digital transformation."
Latest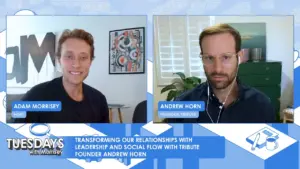 November 28, 2023
Can relationships be transformed through leadership and social flow? Navigating the intricate web of digital relationships can be a tricky proposition. Tuesdays with Morrisey's Adam Morrisey uncovers the transformative impact of emotional recognition in the workplace with Andrew Horn, the mastermind behind Tribute. This podcast edition unravels the story of a platform redefining how […]
Read More