Trends, Challenges, and Opportunities for Enterprise Audio Capture
Companies have been using audio capture for decades, and it's seen many evolutions. Now, organizations are using it across the enterprise to drive improvement and insights.
To get a view of the industry and what's new, MarketScale Radio host Daniel Litwin spoke with Steve Kaiser, Co-Founder and CEO of OrecX, a developer of call recording software.
"The beginnings of call recording in business were call centers and help desk. That's morphed into recording all calls across the company to learn from them. It's now as ubiquitous as voicemail," Kaiser said.
This voice data has meaning when companies can add structure and meaning to it. While many organizations have this feature in a set from a communication provider, the pandemic exposed the lack of agility around operations and communications.
Kaiser explained that businesses have two choices for adopting this technology—open, modern systems or black boxes. The choice is now available, much in part due to the cloud. "The advent of the cloud and infrastructure-as-a-service enabled organizations to spring forward in the design and capture of audio and making meaning out of it."
This new structure also fits a new workforce that's no longer only on-premises. Ideally, a company will want to use a single platform to handle recordings, no matter where the worker is.
"With black box, you can't do cloud and on-premises together. Open systems do this well. A black-box solution will also incur extraction fees just to access the data you already own. With a modern, open system, it's agile and has a collaborative benefit. You also have access to data and can share it with anyone and create value," Kaiser explained.
Follow us on social media for the latest updates in B2B!
Twitter – @MarketScale
Facebook – facebook.com/marketscale
LinkedIn – linkedin.com/company/marketscale
Latest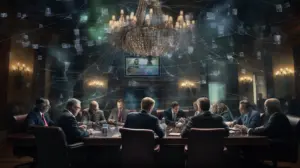 October 3, 2023
In August 2023, the National Institute of Standards of Technology (NIST) put out a request for comments on the Preliminary Update from the Internet of Things Federal Working Group (IoTFWG), which aims to provide the nation direction on how to improve IoT adoption and expand its use cases for the future of industrial, corporate, […]
Read More