What Zuckerberg Got Wrong With the Metaverse
Dan Newman, Principal Analyst & Founding Partner, of Futurum Research gives his hot take on what Mark Zuckerberg got wrong with the launch of the Metaverse.
Dan's Thoughts:
Mark Zuckerberg didn't get much right this past year. The whole meta debacle was a big failure, but not because companies don't need to make big bets. It's because he bet everything while not focusing on that core product. Companies like Alphabet over and over again have made investments in big audacious projects, but they never got away from the core business. Alphabet still understands its search. AWS is focused on its cloud business. That's where its opting comes from. For meta, it went all in on this 10-year vision, and in the meantime, TikTok was taking customers away. It was losing its core audience.
It had already hurt the trust of many of its customers because of what's gone on with, privacy, the elections, and moderation. Some of the same things are going on, with Elon Musk and overall the shedding of so many employees in such a short period of time. Staying away from doing that has created a lot of uncertainty in the long run.
For Meta and Facebook, I think he needs to get back to the core business, focus on making money, and then reinvest those dollars and ensure the company has a long-term strategy. And maybe it's the metaverse, but it can't be just the metaverse.
Latest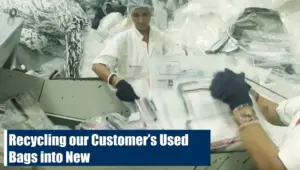 December 6, 2023
This video focuses on EcoLOK4, a groundbreaking product by CONTROLTEK that exemplifies innovation in sustainability. It highlights the process of transforming landfill waste into new deposit bags, with 90% of each bag's material being repurposed trash. This initiative not only reduces waste but also closes the sustainability loop, demonstrating CONTROLTEK's commitment to environmentally friendly […]
Read More