Will Cybersickness Limit the Potential of VR and More?
On Spatial Perspectives, host Dan Cui will have a one-on-one dialog with innovators and thought leaders in the growing Spatial Reality, or Spatial Computing, market. Cui will invite guests who can discuss the real world use cases of the technology and how it could benefit mankind while exploring any drawbacks and how they might be mitigated.
Cybersickness may sound like a sci-fi ailment, but it's a very real and very big deal for some users of cutting-edge technology.
For some, VR headsets can result in negative side effects for up to 24 hours that mimic the seasickness you might experience during a boat ride.
Think of it this way. When you go out on a boat for a long day of cruising, then come home, you still feel your bed moving.
However, developers are starting to do things to try to eliminate this motion sickness — things like reducing non-forward movement and acceleration. Of course, you can also take things into your own hands.
You can take Dramamine, and people have said that pointing a fan at yourself helps. Wristbands that actually look at pressure points, acupuncture, pressure points, alternative movement devices that actually make you feel like you're really physically doing something — these are all different ways users are trying to combat cybersickness.
Follow us on social media for the latest updates in B2B!
Twitter – @MarketScale
Facebook – facebook.com/marketscale
LinkedIn – linkedin.com/company/marketscale
Latest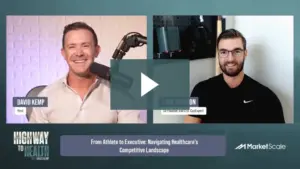 September 28, 2023
Navigating healthcare's competitive landscape requires innovative solutions addressing care quality and affordability. CapExpert is a game-changer in outpatient healthcare. It enhances asset management, ensuring the best care for patients. Luke Johnson, Co-Founder and CEO of CapExpert, spoke with Highway to Health's David Kemp on how CapExpert enhances asset management, bridging visibility gaps and streamlining […]
Read More