Women in Tech: Who is Bridging the Gap for Women in the AV and IT Industries?
Calling all women leaders, the AV/IT industry wants you!
That's the message WAVIT is looking to make loud and clear. Women in AV/IT (WAVIT) is a nonprofit organization dedicated to empowering women in the AV and IT industries. Co-founded by Brandy Alvarado-Miranda, CEO of BAM! Marketing & PR, she and several other women recognized the need to increase the numbers of women in the pro AV industry. "We need a firm headwind to grow those numbers, and we chose to be our own headwind through WAVIT," Alvarado-Miranda said.
This newly-formed group plans to focus on education, recruiting, and retaining women in the AV and IT industries.
Gina Sansivero, VP of Marketing & Corporate Communications at AtlasIED, is another WAVIT co-founder. She took a moment to chat with MarketScale about the organization and its mission.
Gina's Thoughts
"WAVIT is a focused resource for the audiovisual and IT industries, and its real mission is to support women in their career paths and career growth. So professional development, career enhancement, and continuing education are some of the foundational pieces for WAVIT as well as me. We're also very committed to bringing new and young women into the industry.
So, there is absolutely an outreach component to this, creating ambassadors for AV and IT as part of STEM. And so, for us, WAVIT is going to be a natural force. It's founded by a lot of women who have a lot of passion and energy, and it is being supported by members who have a lot of passion and energy and will continue this forward.
We're really excited about that. I think one of the really key pieces that need the most immediate attention, aside from bringing young women into our industry and making our industry more visible and more accessible to young women, is the lack of women in existing leadership roles within our industry. In AV and IT, we know that businesses actually do better when there are women in executive positions. Just different ways of doing business, different viewpoints, different empathy, different emotional IQ, and different leadership styles. That creates a stronger organization. So really, we're looking to support the growth of women into executive leadership positions within their organizations, or at the very least, within the AV and IT industries.
If there's anything else I can do for you, please let me know. Again, thank you very much for all your support, and you can find out more about WAVIT at womeninavit.org."
Article by James Kent
In STEM careers, like IT and AV, women only make up 25% of the workforce. This distinct lack of women in the IT and AV industries sits in contrast to the fact that women make up 72% of college enrollment. Why are women not choosing the IT and AV industries and what is being done to make a difference?
The percentage of women in tech has grown over the past few years, but there is much more that needs to be done to bridge the gap.
Brandy Alvarado-Miranda, Founder and Director of Women in AV/IT (WAVIT) explains the concept of the organization.
Brandy's Thoughts
"It was created by and for women in the AV and IT industries to support and empower women. Our goal among many is to provide a network to move the needle toward more representation in the industry. We know that this is a monumental challenge, so WAVIT along with other industry organizations will collaborate to effect a change.
It's time to stop talking, it's time to act. And so with that, we know that ripples make waves, and that's our intention. We'd love for you to join our organization."
Article written by Marissa Martin
Latest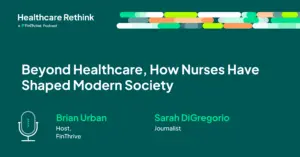 December 4, 2023
Nurses Have Shaped Modern Society beyond healthcare to stand as pivotal figures that transcend their traditional roles, influencing the broader spectrum of societal change. Healthcare Rethink, a FinThrive podcast hosted by Brian Urban, welcomes Sarah DiGregorio, Journalist, Author, and Speake,r to discuss her second book, "Taking Care: The Story of Nursing and Its Power […]
Read More