Workday Cuts 3% of Global Staff in 'Challenging' Environment
(Bloomberg) — Workday Inc., which makes software for business tasks such as human resources, said it was eliminating 3% of its global workforce in response to a "challenging" global economic environment.
"We have decided to restructure and realign some teams across Workday, leading to the difficult decision to eliminate roles," the company said in an email to staff on Tuesday, adding that the majority of cuts would be "happening in our Product & Technology organization."
The company, based in Pleasanton, California, had about 17,000 employees as of July, according to data compiled by Bloomberg. The cuts at Workday are less deep than at most other big technology companies that have also recently pared their workforces. Microsoft Corp.'s move in mid-January to slash 10,000 jobs this year represents about 5% of its global workforce, while Salesforce Inc. announced that it would cut its workforce by 10% or about 8,000 employees. Google parent Alphabet Inc. is slimming down by about 6%. Amazon.com Inc.'s 18,000 job cuts represent only about 1% of its global workforce but 6% of its corporate employees.
"These moves are not the result of over-hiring," the company said, contrasting with most of its other tech peers which took on additional staff during the pandemic boom. Workday said it planned to increase the size of its global workforce in fiscal 2024 and that "based on what we know today, we have no plans to take similar actions of this size in the foreseeable future." Workday has grown by about 38%, adding more than 4,700 workers since early 2020.
The tech industry is wiping out jobs at the fastest pace in at least two decades. In November, the most recent month for which data is available, the sector announced 52,771 cuts, for a total of 80,978 over the course of the year, according to consulting firm Challenger, Gray & Christmas Inc. It was the highest monthly total  for the industry since the firm started keeping data in 2000.
In December, Workday named Carl Eschenbach, a board member, partner at Sequoia Capital and veteran industry executive, as co-chief executive officer with co-founder Aneel Bhusri. At the time, the software company affirmed its forecast for the current quarter and its preliminary outlook for fiscal 2024. Revenue growth has remained steady at 19% to 22% the past three years, although analysts estimate, on average, that sales will increase 17% to $7.26 billion in fiscal 2024 beginning in February.
Workday shares dropped 39% last year amid a broad decline in the enterprise software industry, but this year gained 5.5% through Monday's close. They were up about 1.3% as trading got underwary in New York on Tuesday.
The company said employees would be notified by the end of the day, with US workers receiving three months of pay and two additional weeks of pay for each year of service, among other benefits. Non-US staff would be offered "similar packages" based on local policy.
More stories like this are available on
bloomberg.com
©2023 Bloomberg L.P.
Latest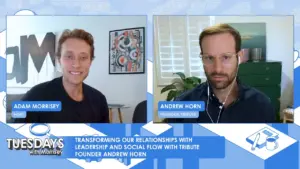 November 28, 2023
Can relationships be transformed through leadership and social flow? Navigating the intricate web of digital relationships can be a tricky proposition. Tuesdays with Morrisey's Adam Morrisey uncovers the transformative impact of emotional recognition in the workplace with Andrew Horn, the mastermind behind Tribute. This podcast edition unravels the story of a platform redefining how […]
Read More