700,000 Fans, Zero Waste: Golf's Annual Recycling Showcase
The 2019 Waste Management Phoenix Open ended on Sunday after a week of golf, music, food, and environmental sustainability.
Known as the "Greenest Show on Grass," the WM Phoenix Open has been highly regarded for its "zero waste" policy. With approximately 50 percent of materials recycled, 34 percent of materials composted, 14 percent of waste converted to energy, and two percent of materials donated, all materials are re-purposed for other beneficial uses.
Last year's event set the bar high. All electricity was provided through renewable energy. Seventy-five million gallons of water was restored, 6,353 gallons of water was reused, and there was no room for leftovers after 24,620 pounds of unused food was donated to local non-profits.
With more than 700,000 attendees, keeping this year's event completely green was no simple task. Event organizers relied on their motto, "planning, planning, and more planning" to pull off this major production. Guests were provided 4,000 recycling and compost bins rather than trash cans. For those who were unsure of what to put where, the event offered environmentally sound "zero waste stations," where attendees were educated on how to properly recycle and compost materials. Compost cups, plates, and utensils were used for food, and all food vendors were educated on which environmentally safe materials and food sources they could use. For guest who still needed assistance, Recycling Ambassadors were around to hand out "green tips."
This year's tournament went far beyond environmental consciousness. Community relations were strengthened as the hosts welcomed students to participate in the Standard Bearer Program and the R.S. Hoyt Jr. Family Foundation Dream Day. Free entry, food, and drinks were provided for all law enforcement, firefighters, emergency services, as well as active, reserve and retired military personnel. In 2018 more than 12,000 military personnel and their guests were welcomed to the premises.
In connection with their extensive community outreach, charity has remained a consistent top priority for this event. In 2017 the event raised more than $10 million for charity and $12.2 million in 2018. Their highly anticipated "green out day" encouraged all attendees to wear green to the event to show support for the "green/eco-sensitive efforts of the tournament." Last year's "green out day" raised approximately $105,000 for local environmental charities.
To showcase the many benefits of this unique event, a sustainability report is put together to calculate its annual carbon footprint. The report contains details on how much material was recycled and composted, how much material was donated, how much water was restored and reused, and much more. The professionals behind the WM Phoenix Open encourage people not to simply take "their word" for the results as all data is calculated by third-party organizations.
While thousands were able to make it to the WM Phoenix Open, the great minds behind the event understand that not everyone can come together for such an important cause. With that in mind, they have provided ways to reduce waste by encouraging people to place recycling bins where they can, remember to keep food and liquids out of recycling bins, and to visit RecycleOftenRecycleRight.com to find other useful tips on sustainability.
For the latest news, videos, and podcasts in the Sports & Entertainment Industry, be sure to subscribe to our industry publication.
Follow us on social media for the latest updates in B2B!
Twitter – @SportsEntMKSL
Facebook – facebook.com/marketscale
LinkedIn – linkedin.com/company/marketscale
Latest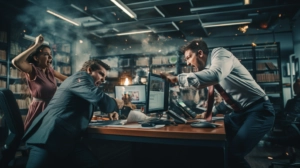 September 22, 2023
The kind of news that is delivered everyday serves as a grim reminder of the escalating violence across the U.S. Evidently, the need for proactive measures to ensure safety has never been more pressing. Such violence is not limited to any particular locale. It's actually permeating in so many different areas once considered […]
Read More