ChyronHego at DSE 2018: A Conversation with Brian Spiers
Brian Spiers is the National Director for the Sports Venues Division of ChyronHego. We recently caught up with him at DSE 2018 in Las Vegas, and he spoke about the show and ChyronHego's latest product.
ChyronHego has been creating graphics for the broadcast community for fifty years, and a few years ago, they merged with the Hego, a Swedish company who brought Bespoke to graphics playback.
In describing his company's experience at DSE 2018, Spiers explained that he was there to showcase Click Effects Prime, their newest Click Effects product and "the latest generation of 3D graphics for technology for sports venues." Used for content creation and playback, Click Effects Prime will show graphic playback on ribbon boards as well as the large center hung venue monitors.
Most exciting for Spiers was the variety of industries that visited their booth, describing that a "number of customers from retail and commerce with different verticals" expressed interest in what ChyronHego is doing.
Click Effects products operate on a centralized single-click action that's easy to learn and offers enhanced graphics and play-by-play analysis that true sports fans crave.
Learn more at ChyrenHego online.
Latest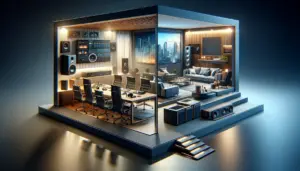 November 27, 2023
In this episode of "Pro AV Today," host Ben Thomas sits down with Audra Kinsley of Sonos Professional to unpack a topic that's causing (sound) waves in the audio industry: the fusion of commercial and residential audio systems. As we navigate through a landscape where consumer and professional audio worlds are increasingly intersecting, Sonos steps […]
Read More