Comcast Spectacor Approves $250mil Renovation For Wells Fargo Center
The Wells Fargo Center in Philadelphia, home to NHL's Flyers and NBA's 76ers is getting a $250 million facelift. The ownership group, Comcast Spectacor, approved plans last week for updates.
The current plan spans over three summers, and the venue will remain open for games and concert events during the renovation. Included in the proposal is the replacement of 21,500 seats, the removal of some luxury boxes, widening of the main concourse, and new windows to showcase the beauty of the Philadelphia skyline. The flooring and locker rooms will also get upgrades.
The mezzanine will receive a 7,000 square foot addition from areas that were previously unused by the public and will gain new eating options, fan lounges, and digital screens. "Folks want a more social experience when they go to the game," Phil Weinberg, Executive Vice President and general counsel at Comcast Spectacor, said. "They want to get up and go back and text and show photos. They want it more open."[1]
The final updates are scheduled for 2020 and include rink-side seating for NBA games and brand new rink-side suites.
[1] http://www.philly.com/philly/business/comcast/comcast-spectacor-wells-fargo-center-sixers-flyers-fans-suites-fans-20180305.html#loaded
Latest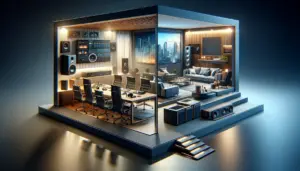 November 27, 2023
In this episode of "Pro AV Today," host Ben Thomas sits down with Audra Kinsley of Sonos Professional to unpack a topic that's causing (sound) waves in the audio industry: the fusion of commercial and residential audio systems. As we navigate through a landscape where consumer and professional audio worlds are increasingly intersecting, Sonos steps […]
Read More