Creating A Bridge Between Large Corporations And Youth Sports
Sports software startup Jersey Watch initially aimed to be a middle man between large corporations wanting to sponsor youth teams and organizations across the country. "Big Fortune 500 companies had no way to be involved with youth sports," cofounder Tim Gusweiler said. "They wanted to be involved, but there was no easy way to do it."
But, as their staff worked to develop that idea, they discovered instead that there was more work to be done to help parents and their student athletes save more time for the fun stuff, and not "another 40 hour a week job" organizing all the elements of student athletics, Gusweiler said.
As a result, they developed a software that enables youth teams, organizations and the volunteers who power it to "manage a professional, mobile-friendly website … [and] save time registering players, collecting payments, building schedules and communicating with parents and coaches," according to its website.
"THERE WAS NO LIGHT BULB MOMENT LIKE, 'WE SHOULD BUILD A YOUTH SPORTS SOFTWARE.' IT WAS MORE LIKE A WINDING ROAD."
Ultimately, the software aims to be user-friendly, so that any coach or volunteer approaching it can have a website up and running within a few minutes.
Latest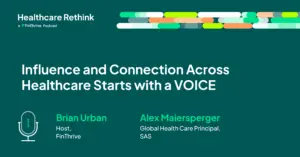 September 29, 2023
In the latest episode of the Healthcare Rethink podcast, presented by FinThrive, host Brian Urban sits down with Alex Maiersperger, the Global Principal Healthcare at SAS. Their conversation charts the role voice plays in influencing and connecting the healthcare industry. Maiersperger, who co-founded the Advancement League, shares his journey from being a healthcare optimist to […]
Read More