MarketScale Exclusive: How Data Drives Formula 1 Both On and Off the Track
Formula 1 has launched the careers of worldwide superstars like Lewis Hamilton, Michael Schumacher, and Jackie Stewart. In 2018 alone, over 4 million people worldwide attended one of the Grand Prix.
Formula 1 is synonymous with brands ranging from Ferrari to Rolex to Segway and Emirates. Their Netflix series titled Formula 1: Drive to Survive is a heart-pounding rush that leaves you catching your breath.
So how did this sport grow to the extent that it has produced a start like Hamilton, who is in that vaunted category of celebrities that even A-listers are envious of? The answer lies in the data.
THE DATA THAT IS DRIVING MASSIVE GROWTH
Michael Lewis' book "Moneyball: The Art of Winning an Unfair Game" brought into focus a trend that was taking place across sports. Organizations were realizing they could make smarter decisions with their resources by utilizing data that was readily available to them.
This trend has recently made its way from the field of play into the world of fan engagement. Joining MarketScale's Sports & Entertainment Podcast is Max Metral, Insight Manager for Formula One. He discusses the data F1 collects and how it's used to drive fan connections and brand recognition.
"Many sports fans really like to have access to data about the players, on our side it's more about the car and the driver," Metral says. He says that they've found that fans enjoy consuming data about the cars, from tire usage to performance in each area of the track.
The content preferences of F1 fans provides insight into the types of people who follow the sport closely. They understand that in a sport like this, much like in the business world, the margin between winning a race and finishing in the middle of the pack is razor thin. Knowing the nuanced details that make up these margins is where the beauty of the sport lies and where casual observers are transformed into die-hard fans.
"What we see is knowledge is driving fandom. The more you know about a sport, the more you understand the rules and how it works, the more likely you are to be a fan," Metral says.
The data certainly seems to agree with him.
For the latest news, videos, and podcasts in the Sports & Entertainment Industry, be sure to subscribe to our industry publication.
Follow us on social media for the latest updates in B2B!
Twitter – @SportsEntMKSL
Facebook – facebook.com/marketscale
LinkedIn – linkedin.com/company/marketscale
Latest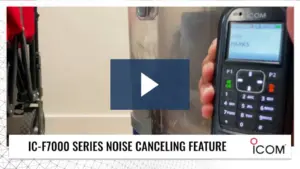 September 27, 2023
In this brief product demonstration video, ICom's IC-F7000 Series receives a mic test of its noise-canceling feature. Through the two demonstrations it is clear the IC-F7000 removes loud ambient noise for clear two-way communication.
Read More