Iron Neck Makes Headlines in Concussion Prevention
Iron Neck was recently profiled in the Minnesota Star Tribune, spreading it's technology across the country and making an impact on how coaches, parents and athletes approach concussion prevention.
Mike Jolly, certified trainer, gym owner, former UCLA athlete, and football coach, was tired of watching the football players he loved suffering with critical injuries, particularly repeated concussions, which have been shown to lead to CTE, or chronic traumatic encephalopathy. So, in the true spirit of an athlete, he did something about it.
As featured in a recent article in the Star Tribune, Minnesota's largest newspaper, Mike became proactive. He researched these and other brain-related injuries and began working toward a solution. The result was the Iron Neck (formerly dubbed "Halo"), which he rolled out in 2012 and now features 3 versions. Mike's research yielded an important piece of knowledge: stronger neck muscles are correlated with lower incidences of brain injuries. This information became the impetus for the Iron Neck.
2012 Halo (left), 2018 Iron Neck Pro (right)
The Iron Neck is worn on the head and connects to a cable pulley or resistance band for linear resistance and incorporates a braking system to add rotational resistance. The transition from metal parts to injection molding accounts for the lighter second-generation device; originally 13 pounds it's now down to 3 pounds. According to Jolly, the key to concussion management, and why a strong neck is so important, is the ability to reduce whiplash. The Iron Neck's unique design allows coaches and athletes to proactively increase neck strength in every position so they're better prepared for the unpredictability of contact sports.
The redesign has sparked an upswing in revenues and the company predicts $1 million in sales by year's end. Now used by over 300 high school and college teams, 13 NFL teams and athletes across practically every contact sport, the new Iron Neck line is customized to fit the needs of specific athletes and environments. The Varsity model is geared toward high school teams for use as an exercise aide. The Rehab model, as its name suggests, is primarily used in physical therapy and rehabilitation, as well as pre-high school athletes. And the Pro model combines strength training and physical therapy.
"I think Iron Neck is an example of technology that could be powerful, particularly in girls," says Dr. Uzma Samadani, a neurosurgeon in Minneapolis and an Associate Professor at the University of Minnesota. "They tend to have weaker necks. With a stronger neck, your head moves less and that may potentially slow down injuries, stretching and tearing of neurons."
The rise in interest and sales is humbling and promising, but the team at Iron Neck is more excited about the positive impact their device is having on athletes as well as its potential to change lives or even save them. For Mike Jolly and his team, the ability to make a real difference in the sports world has no price tag. We would like to thank reporter Olivia Johnson and the Star Tribune for their time and support in running the story about an issue that we believe is at the heart of today's sports culture.
Read more at iron-neck.com
Latest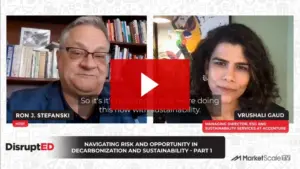 September 26, 2023
The global conversation has shifted dramatically towards decarbonization and sustainability in recent years. With the world experiencing unprecedented levels of disruption, from 5G technology to the challenges of a pandemic, the urgency to address climate change and its implications has never been more palpable. Although most business leaders see the vision of Sustainable Development […]
Read More