iSportConnect and HookIt Announce Partnership
Earlier this week, iSportConnect, the world's largest global private network of sport business executives announced a partnership with sports sponsorship valuation and analytic platform Hookit. MarketScale had the exclusive opportunity to speak to Hookit Director of Marketing, Roger Breum, to discuss the platform further, the partnership with iSportConnect, and how machine learning is improving data analysis for the company.
A pioneer in the "spontech" space, Hookit is the leading single source platform for quantifying sports sponsorship value across all forms of media. Hookit works with brands and rights holders to expand their sponsorship more effectively. According to Mr. Breum, the company has utilized advanced technology to better analyze data and create valuable suggestions for athletes and organizations alike. "Looking at the engagements on social and digital media posts with the help of computer vision, Hookit is able to identify brands logos on posts to help determine value while their AI tools provide insight from large data sets to identify which posts will generate greater value for a client."
In regards to the new iSportConnect partnership, Breum and the entire Hookit team seek to further expand their influence and reach across the pond. "What this will do for Hookit is allow us to grow the knowledge of our software internationally… iSportConnect is a truly global community that will be able to help us with marketing and business development and provide an opportunity to get in front of executives at some of the major European sports organizations like Real Madrid to help us grow internationally while we become a leader in the US market."
While the company focuses on their latest partnership, the future of Hookit for Mr. Breum is bright and filled with data. "The more we're able to understand the need of leading organizations across the world, this partnership allows us to keep our platform ahead of the competition in terms of what sports properties and brands sponsoring sports want to measure– and helping them with their future sponsorship strategy…  with the increasing amount of data we have, the more AI and computer vision will make things prescriptive."
Learn more about Hookit here
Latest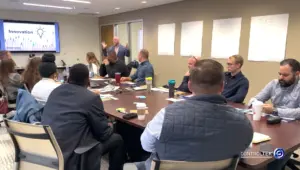 December 4, 2023
The video captures highlights from the CONTROLTEK Design Thinking Workshop specifically tailored for Burlington Stores. It shows interactive sessions, engaging group activities, and innovative brainstorming, emphasizing CONTROLTEK's commitment to developing customized retail solutions in collaboration with the Burlington Stores team.
Read More