Lids Expands Merch into Collegiate Athletics with Lids University
Collegiate athletics, college sports fans, and the larger sports retail world locked in another merchandising win and opportunity as Lids, the leading hat and sports merchandiser, announced another expansion to its brand and a fresh crop of brick and mortar stores. Whereas with its last partnership, Lids teamed up with the Negro League Baseball Museum, Harlem Globetrotters and the Black Fives to launch its "They Gave Us Game Line," this time the headwear company is opening up a new physical retail concept, Lids University, with a new line of school-specific merch. Each store will feature storefronts that are solely dedicated to selling college merchandise geared towards each fanbase in the area. Britten Maughan, President of Lids Sports Group, says there is a lot of potential for Lids by further focusing on the college market.
"It is no secret that college is one the greatest licensed sports industries that are out there, and from a Lids perspective our concept is largely centered around pro sports and a majority of our sales come from pro sports, and we are by far under-indexing in NCAA sales," Maughan said. "We saw an open spot on the canvas in the malls for college sports, it is well represented from a mass perspective in places like Wal-Mart and Target but not with premium goods."
Right now three stores have already "enrolled in classes," opening their doors on July 22 in Chicago, Buford, Georgia and San Marcos, Texas. Lids, which already leverages partnerships with top sports organizations and athletic brands, set its sights on some of the most popular universities to launch it collegiate sports apparel brand: Alabama Crimson Tide, Michigan State Spartans, Illinois Fighting Illini, Ohio State Buckeyes, and more.
According to a press release from Lids, at least 8 others stores will open across the country but primarily in the south. Store locations include…
Indianapolis
Baton Rouge, LA
Atlanta
Hoover, AL
Gonzales, LA
Savannah, GA
Charleston, SC
Mebane, NC
From the store and school choices, it's clear that midwestern and southern U.S. colleges and universities got most of the Lids love. Maughan says the focus was to put most of the storefronts in the south because of the strong communities and high demand for merch from fanbases in those regions.
"Being down in Texas, being in Georgia, two of our three that are open today, that is the heart of college football country. College football drives a lot of the demand and excitement in the NCAA license space," Maughan said.
Maughan says they will be relying on that demand and excitement, as well as strategic locations where there is ample commercial real estate to support this concept, to successfully bring Lids University to market. Maughan envisions each Lids University also being a destination for fans on the periphery of their local regions, such as fans who aren't able to drive all the way out to campus but want the same quality college gear that students can buy at a campus bookstore. At the end of the day though, this concept opens the door to new revenue streams for collegiate sports organizations, as well as a new strategy for building a loyal merch-buying fanbase.
"We anticipate that the test will go really well, and if it does, you think about all the different colleges throughout the country," Maughan said. "I think there is a great opportunity to grow this concept. It is great for the schools because it brings awareness to their brand, access to the product for their fanbase, and additional royalties at the end of the day."
If tests go well with the stores that are opened in 2022, Lids plans on opening more Lids University stores throughout 2023.
Latest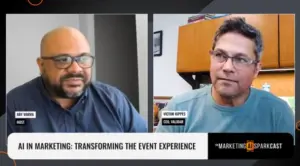 November 28, 2023
AI has been gradually changing the landscape of event technology at a very rapid pace. In an industry where staying ahead of technological trends is crucial, AI's impact on marketing and event management has become increasingly significant. As witnessed in the rise of account-based marketing and enhanced personalization, AI is effectively reshaping how events […]
Read More