Listen: Big Data's Impact on Golf with Jeff Isler
On today's episode of our Sports & Entertainment Podcast, we're excited to have Jeff Isler join the show! We get to talk about how innovative technology continues to speed up the player development process in the industry and also how "big data" is now reaching into the golf world. We also discuss how the learning process has been enhanced by these tools and how from a business standpoint, this technology has really allowed golf coaches to finally scale their business!
For more information on Jeff Isler Golf, be sure to check out their website.
Latest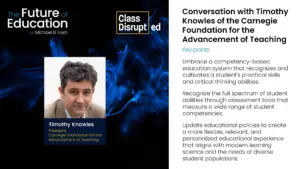 December 4, 2023
What approaches must education take in advancing teaching in a post-pandemic world? How can traditional education reshape itself to include a more dynamic, skills-based learning approach? As educational paradigms shift towards nurturing adaptability and critical thinking, leaders in the field are poised to redefine the learning framework to prepare students for a rapidly evolving […]
Read More