Making Sports More Active in the Digital Age
The fans remember the highlights but the franchises remember the technology, data, and inventions that powered their season. Host Tyler Kern sits down with the innovators, leaders and founders that are taking sports into the future.
The world of sports is seeing a major transformation in the role of technology in competition.
Will technology enable us to unlock our full athletic potential, or will it actually be the method we use to play sports? A new organization is trying to marry those two ideas together.
Four pioneering companies in sports are joining forces to launch the International Association of Mixed Reality Sports (XRS). The focus of the new organization will be to promote physical activity by combining sports, technology and gaming.
On Thursday, Nov. 20, the International Association of Mixed Reality Sports (XRS) was publicly launched in Munich (GER), Helsinki (FIN) and Zurich (CH). Initiated in early October by the CEOs and founders of four pioneering companies in the rapidly growing industry, the world's first association of its kind is meant to support and grow the meaning of mixed reality sports (XRS).
Host Tyler Kern will be sitting down with Markos Aristides Kern, Founder & CEO, Fun with Balls, Chairman of the Board, XRS Mixed Reality Sports Association, Dr. Raine Kajastila, CEO, Valo Motion, and Stephan Niedecken, Co-Founder, Sphery AG. Kern will dive into the issues they have seen in the world of eSports and mixed reality sports and how they want to address declining sports participation.

Latest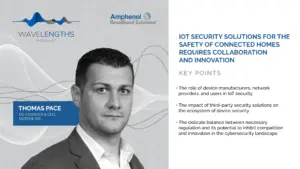 November 28, 2023
Since the introduction of smart devices, the world has increasingly become dominated by interconnected devices but IoT securitydemands are also growing. The "connected home" has shifted from what was once a futuristic concept to reality. With the global smart home market projected to reach $135.3 billion by 2025, the conversation around the security of these […]
Read More