MICRODRONES EXPANDS INTO EASTERN EUROPE WITH DOMINIK WOJCIK OF MICRODRONES
Prior to Microdrones, Dominik developed over 16 years of experience in consumer and commercial electronics. Most recently he was the Sales Manager for Parrot, where he created great business relations with distributors, telecoms, chain stores, resellers, retail and e-commerce. He learned much about the consumer side of the drone business. However, he recognized that drone use is expanding on the professional side and that new technology, like Microdrones integrated systems, are extending the possibilities of what can be achieved by using drones.
"I'd been working for Parrot for the last 2 years focusing on consumer and commercial drones," said Wojcik. "The market and development of professional drone use has grown tremendously and I could foresee a great opportunity to help expand Microdrones throughout Eastern Europe. Early in my career, drones were viewed more as flying toys for taking pictures and videos.  Now, there's applications and demand for agriculture, photogrammetry, and geomatics."
FLYING HIGH IN POLAND
When it comes to flying drones in Eastern Europe, countries have many different and varied regulations as to who, where, and how a drone may be operated.  Fortunately for Dominik, Poland is ahead of the curve.  "In 2016, Poland already had over 4,000 drone operators, which was the third highest in the world after Japan and the United States," explains Wojcik.  "In fact, since 2016 that number has tripled to over 12,000 operators.  Getting a license isn't easy. You need to pass a National exam.  But as the number of operators continue to grow, the number of drone services also expands.  We are already talking about BVLOS laws, a corridor for autonomous flight and those changes are coming to the market."
OVERREGULATED
Beyond Poland, Dominik sees abundant opportunities throughout Eastern Europe to put Microdrones to work.  Wojcik explains, "The eastern part of Europe is way behind in infrastructure, especially when it comes to roads compared to Western Europe. So basically, it's one big construction site, and our products are suited for helping with this."  The challenge is keeping current with the various restrictions and laws from country to country.
"For example, in Romania, you need a special license just to sell a drone, which is costly and a time consuming procedure," according to Wojcik. "No one knows how to do it properly. It's much more difficult compared to all the other countries and flying laws."
Dominik notes the European Union is working on creating unified drone use laws to ease the restrictions and make it more convenient to get drones in the air. Many of the governments are trying to update their laws so that drones can be used for rescue missions, surveying, autonomous flight, and other advanced applications.
"What's opened the whole market" Dominik says, "is the one, open-level European law.  Other governments should follow and adapt for any regional differences. Then all of Europe would benefit.  We're seeing that as more countries adapt their drone regulations, the potential for growth is substantial.  For example, in Sweden, not too long ago, it was prohibited to fly any drones equipped with a camera. This basically grounded 95% of drone operations in the country.  As more applications became available for drone usage, Sweden amended their rules and drones took to the skies."
THE MICRODRONES DIFFERENCE
Dominik looks forward to making an impact in the Eastern European market with Microdrones, especially with the abundance of construction projects. The all new mdLiDAR3000 opens new ways to work with data and talk with Construction, Forestry, Plant Management and Energy companies. Other integrated systems like the mdMapperseries and mdTector1000CH4 help diversify the Microdrones portfolio.
"We all know that time is money, so when we can simplify the workflow with the most efficient tools in the market, they sell themselves," explains Wojcik. "We did a demo flight with the mdLiDAR1000 for a Slovakian company, flying over power lines to check on vegetation growth. The laser technology accommodates high end requirements for data collection in the areas of construction, mining, and engineering, as well as surveying and research. Anywhere we go, we can demonstrate with our Microdrones integrated systems that we cover the gap between all the products in our portfolio."
LOOKING TO THE FUTURE
Dominik is also excited about the advances in drone technology. He sees three key areas that will continue to shape and expand the future of UAV systems: new payloads, 5G and Artificial Intelligence. "Payloads are always instrumental to collecting data and integrating with any UAV platform," says Wojcik. "The mdLiDAR3000 integrated the Riegl miniVUX-1UAV (or an optional miniVUX-1DL) and a Sony RX1R II camera to provide highly accurate point cloud visualizations.  5G performance targets high data rate, reduced latency, energy saving, cost reduction, higher system capacity, and massive device connectivity. 5G will pave the way for flying Beyond Visual Line of Sight. Finally, artificial intelligence will also help our integrated systems communicate faster, fly further, and interpret data much more accurately. It's a very exciting time to be in the drone business."
To learn more about these groundbreaking systems schedule some time to talk with our friendly, helpful sales team!
Latest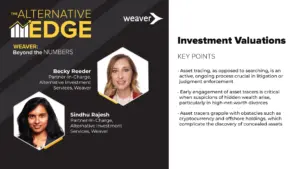 December 4, 2023
In this episode of The Alternative Edge, a Weaver: Beyond the Numbers Podcast, host Becky Reeder, an audit partner and co-leader of the alternative investments practice at Weaver, engages with Sindhu Rajesh, an Alternative Investment Services Partner with Weaver. They unpack the complexities of venture fund valuations, offering critical insights into industry dynamics and best […]
Read More