More than a Hobby: How Metal Detectors Aid in the Search for Missing Service Members
On this episode of Discover the Truth, a podcast by Garrett Metal Detectors, host Tyler Kern talked with Danny Keay, Conflict Archaeologist and retired US Army, about conflict archaeology and metal detecting in Germany.
Conflict archaeology is a new subfield in the world of anthropology. According to Keay, it used to be known as battlefield archaeology, but that term was restrictive, as the assumption was that it referred to just the battlefield. Academics that focus on this area of study don't focus on just modern war. They also focus on older conflicts, including wars that were fought in the stone age.
"They changed the name to conflict archaeology to encompass, for instance, construction sites, factory sites, prisoner of war camps, areas where soldiers rested or camped out – it includes the whole aspect of war, not just the battlefield," Keay said.
Currently located in Germany, Keay said metal detecting is borderline illegal because of the number of explosives in the ground. It is something that has always been frowned upon, but the majority of people didn't say anything about it.
Over the past 10 years, the laws have changed, however. Anything that's older than 50 years is considered a national monument or a heritage site. If you want to metal detect, and the state archaeological agencies do not license you, you're doing it illegally.
"Of course, we're talking about a country that has, starting in 1944, heavy conflict, heavy land battles and heavy aviation battles," Keay said. "You have crash sites all throughout Germany as early as 1939."
Listen to hear more about metal detecting and conflict archaeology.
Follow us on social media for the latest updates in B2B!
Twitter – @MarketScale
Facebook – facebook.com/marketscale
LinkedIn – linkedin.com/company/marketscale
Latest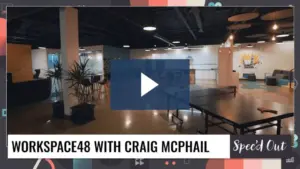 October 3, 2023
The conversation around modern workspace innovation has recently become more pertinent as organizations seek to adapt to new-age working conditions, accelerated by the global pandemic. Challenging the conventional workspace models pave the way for more flexible, efficient, and technologically driven solutions. According to a survey by the Pew Research Center, about 54% of adults […]
Read More