NBC to Generate Historical Ad Revenue in February
Two of the biggest televised sports events in 2018 is about to make NBC over 1.4 billion dollars in ad revenue in just 22 days.
Super Bowl LII this weekend, and the 2018 Winter Olympics beginning on February 8th, culminates NBC's 2 year push to change up its go-to-marketing approach. An aggressive strategy of ad innovations and big swings, NBC is on track to receive one of the biggest sports advertising windfalls ever recorded.
At a staggering $500 million in Super Bowl-related advertising revenue, NBC Sports Group will record the highest single-day payout for a media company, ever. That figure includes $350 million worth of in-game advertising, with the average 30-second commercial spot costing a mere $5 million.
Even more impressive are the revenue numbers for the Olympic games in Pyeongchang, South Korea, where ad revenue is currently on track to surpass its $800 million for Sochi's games in 2014 at $900 million in total or the 18-day competition.
Despite its growth, NBC needed to get a little creative after seeing a 21 percent drop in viewership for the Rio Games, and the shift to digital advertising was natural.  "Rio was a wake-up call for everybody," says Dan Lovinger, evp ad sales for NBC Sports Group. "It's the same viewing experience, so why shouldn't we be aggregating that audience, and monetizing it in the same fashion?"
Kickoff between the Philadelphia Eagles and New England Patriots is set for approximately 6:30 p.m. Eastern Time.
Latest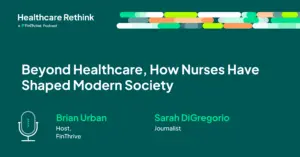 December 4, 2023
Nurses Have Shaped Modern Society beyond healthcare to stand as pivotal figures that transcend their traditional roles, influencing the broader spectrum of societal change. Healthcare Rethink, a FinThrive podcast hosted by Brian Urban, welcomes Sarah DiGregorio, Journalist, Author, and Speake,r to discuss her second book, "Taking Care: The Story of Nursing and Its Power […]
Read More