Nevco & MotionRocket: A Partnership That Scores
Enhancing the fan experience at live sporting events is a priority for athletic departments, professional leagues, and sports clubs looking to create unforgettable moments. One way to improve the atmosphere is through eye-catching, dynamic video scoreboards that captivate audiences. For over 80 years, Nevco has engineered high-quality scoring and display products for athletic facilities. Our innovative, next-generation digital scoreboards represent the finest in high-tech video hardware, which we complement with robust game-day software from our partners at MotionRocket.
MotionRocket, one of the industry's premier video display operating systems, utilizes the Nevco digital LED video display and live scoreboard data to bring instant replays, virtual scoring, and captivating transitions to life. One often overlooked component of a digital board purchase is the software used to operate the display.  With non-intuitive, complex software game-day elements are going to be difficult for video operations to execute, thus impacting what you can/can't show on the video board, ultimately impacting your fans' experience. The collaboration between our hardware and software engineers enables customers to optimize the use of their Nevco videoboard through an intuitive user interface for optimal content delivery. The MotionRocket Sports Video Control System drives Nevco display functionality and delivers entertaining content to live audiences. Through our partnership we have been able to deliver innovative scoring solutions to athletic departments around the country including Bentley University, University of Saskatchewan, University of North Florida, West Texas A&M and Binghamton University.
Recently, Nevco installed state-of-the-art videoboards at the baseball and softball stadiums of University of North Florida, each operated by MotionRocket's Sports Video Control System. Each high-performance videoboard features video replay capabilities, real-time stats, and engaging in-game graphic packages.
"Continuing to enhance our athletic facilities with videoboards and digital scoreboards keeps with our goal of improving the fan experience and game atmosphere," said UNF Director of Athletics, Lee Moon. "Our hope is that these enhancements also assist in growing our attendance… In addition, we are looking forward to this expanded relationship with Nevco, who has proven to be a truly great partner for us in this area."[1]
Together, Nevco and MotionRocket create scoring solutions that can be easily controlled and programmed to deliver memorable fan experiences. We ensure a facility's design, installation, training, and service needs are met, promoting the highest customer satisfaction. When it comes to technical support, clients need only contact Nevco Service. We'll take care of any Nevco hardware challenges you may have, and coordinate with MotionRocket to service your software needs.
To learn more about Nevco's scoreboard solutions, visit nevco.com/about/process today.
[1]http://www.unfospreys.com/news/2017/8/17/general-athletics-adding-video-scoreboards-for-baseball-and-softball.aspx?path=softball
Latest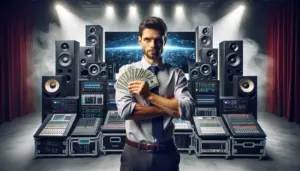 December 8, 2023
Mastering AV sales strategies in a global professional audio-visual (Pro AV) market, poised to reach $79.2 billion by 2028, requires much attention to detail. The surge in demand from corporate, government, and institutional sectors, driven by the need for enhanced productivity and efficient working environments, gives AV sales pros a lot of opportunity. In […]
Read More