Peloton to Sell Gear, Apparel Via Amazon as CEO Retools Strategy
(Bloomberg) — Peloton Interactive Inc. said it will sell bikes and certain accessories on Amazon.com Inc. in the US, breaking with a longtime practice of exclusively selling products via its own website and retail stores.
The move to open a storefront on Amazon's sprawling online marketplace will help Peloton expand its distribution and make products more readily available, the New York-based company said in a statement Wednesday. Peloton shares rose more than 9% in pre-market trading.
Chief Executive Officer Barry McCarthy, a tech veteran who took the helm in February, is trying to turn around a business that thrived during the early days of the pandemic but slowed drastically in the past year. He's looking to reinvigorate sales, boost efficiency and restore some of Peloton's former cachet.
Among other moves, Peloton is also redesigning its bikes so customers can assemble them at home and will explore letting users beam its content to rival workout machines.
The fitness company earlier this month announced plans to lay off about 800 workers, raise the prices of its equipment and outsource deliveries and some customer service functions. It's also looking to wind down much of its retail footprint in North America starting next year.
It's not hard to see why Peloton chose to sell its wares on Amazon. The Seattle-based company has a commanding position in online retail in the US. Insider Intelligence estimates Amazon will account for 38% of US retail e-commerce sales this year, with Walmart a distant second at about 6%.
"Expanding our distribution channels through Amazon is a natural extension of our business and an organic way to increase access to our brand," Kevin Cornils, Peloton chief commercial officer, said in the statement.
More stories like this are available on bloomberg.com.
©2022 Bloomberg L.P.
Latest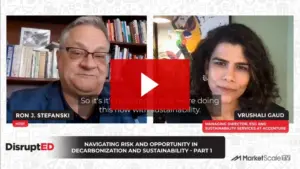 September 26, 2023
The global conversation has shifted dramatically towards decarbonization and sustainability in recent years. With the world experiencing unprecedented levels of disruption, from 5G technology to the challenges of a pandemic, the urgency to address climate change and its implications has never been more palpable. Although most business leaders see the vision of Sustainable Development […]
Read More