US Soccer Federation's Atlanta Training Center will be a "Game-Changer" for Adaptive Athletes
The U.S. Soccer Federation (USSF) is set to establish a national training center in Atlanta, in a move that its CEO JT Batson expects will inject $100 million annually into Atlanta's economy. And while the upcoming Atlanta training center will cater to all 27 national teams, a key aspect of the center will be its emphasis on universal design in sports facilities for adaptive athletes.
The centre will be partly financed by a $50 million contribution by Arthur Blank, owner of the Atlanta Falcons and MLS Atlanta United. Part of this contribution is expected to go towards the construction of facilities catering to U.S. Soccer's nine extended national teams, including the Cerebral Palsy and Power national teams. The design and infrastructure of the Atlanta training center will prioritize accessibility and support for these adaptive sports teams, ensuring they have the necessary resources and facilities to train effectively. Experts are calling this move a game-changer for the adaptive sports community, and highlighting the possibility of the center hosting adaptive sports tournaments.
Dr. Rob Hardin, a professor of Sports Management at the University of Tennessee, Knoxville, whose expertise spans from sports management education to the holistic care of athletes, explains why Atlanta's upcoming training center will help make strides in adaptive sports.
Dr. Rob's Thoughts
"So the NFL has slowly creeped into the southern United States the same way with expansion hockey teams coming into the southeastern United States. And so there's obviously a demand. I mean, it's a good fit for Atlanta. I mean, soccer is obviously growing and growing and growing. I mean, there's lots of professional soccer teams. 
Obviously, sports in the southeast are important. I mean, college football is king in the southeastern United States. I don't think any, you know, that's just the way it goes. With the influx of professional teams in the last, you know, 30 years, the Dolphins have always been there, but with, and the Bucks, but the Bucks were expansion team. Jacksonville then was an expansion team. Carolina was an expansion team. People like Atlanta. I mean, there's a lot of professional athletes live in Atlanta just because of the location and the abundance of culture there. 
I mean, Hub can be a lot of different things, but is Atlanta a sporting city? Absolutely. I mean, sports obviously plays a huge role in that city and what it does. I mean, the battery where the Braves play now, which is just north of Atlanta. I mean, that's a whole phenomenon, like how that was built and the mixed use there with the businesses and the housing and the stadium. And I mean, it's phenomenal. Even with Mercedes tearing down the Georgia Dome, building Mercedes-Benz Stadium, and then with Mr. Blank bringing the soccer team there, that was pretty significant as well. 
If it's going to be universal design to support people with physical disabilities, that's huge for visually impaired or hearing impaired people or people with physical disabilities, mobility challenges. I mean, that's a huge game changer just in that culture as well, as far as getting people, attracting people there to compete. So Lakeshore Center, which is in Homewood, Alabama, right outside of Birmingham, that's a Paralympic training center. There's specific sports that train there, but I think the adaptive part of that can be a game changer for the adaptive sport community. 
Margaret Strand and Brett Harden are at the University of Alabama, and they have a huge adaptive sports program. The universal design of that facility to support that is pretty significant as well, especially since that's going to be intentional. It's not like, oh yeah, by the way, we need to do this. Based upon what you sent me, it sounds like that's going to be part of the consideration of the design of the building. There's not going to be a kind of retrofitting type thing going on. The adaptive sport community, that's fairly significant to be able to get to have access for that. I mean, that's just simple things, you know, curb cuts, you know, things of that nature. So to get people in and out, having elevators wide enough, having doors wide enough or, you know, two wheelchairs to pass, things that really aren't on the top of people's minds when they're designing buildings. But like, if you're a wheelchair user, it's obviously on the top of your mind. Like, can two people get on off the elevator at the same time? Can we get two wheelchairs to pass in the hallway? I'm guessing like the locker rooms won't have steps to get in and out of showers. They're going to be wheelchair accessible. There's going to be people who have, you know, physical disabilities that need to get in and out of showers and locker rooms. So I think all those things are pretty significant too for the adaptive sport community. That will attract tournament adaptive sport tournaments to come there and play at all levels, youth to elite, visually impaired, hearing impaired, things of that nature. And I think that will be pretty big. That can have a major impact on the adaptive sport community that may get lost in the shuffle, but in that community, it could have a major impact. Just for simple accessibility options that have a place to compete and even a place to train."
Article written by MarketScale.
Latest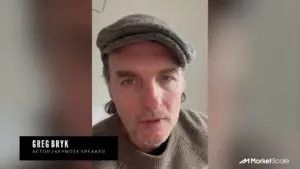 November 30, 2023
In a crowded marketplace, authenticity could be the strongest differentiator in standing out from the competition. Actor and Keynote Speaker Greg Bryk shares his insights on making a mark, on-screen and in the B2B arena. Bryk emphasizes the power of authenticity over pandering to the audience. He explains, "The way to stick out from […]
Read More