Watch: Hartford's XL Arena Seeks RFPs for Purchase
Hartford's XL Center in Hartford, CT is seeking request for proposals for their aging stadium. The Stadium is currently home to UConn women's and men's basketball, UConn hockey and the AHL minor league Wolf Pack. Proposals are due by June 29, and the decision is expected after evaluation and negotiations by a review panel in the fall.
Oak Street Real Estate Capital, a Chicago private equity firm has already stepped forward with an unsolicited bid. Michael W. Freimuth, the executive director, said the state is not pledging to devote funds for improvements as part of the RFP.
The decision on what to do with the arena has been going back and forth since 2014. "The state could be a player. I would think honestly whatever proposals come in, it would require some state participation."
Latest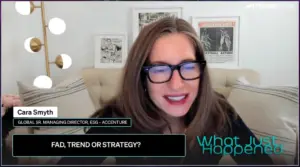 November 30, 2023
The world is in an era where sustainability and responsible retail business practices are increasingly crucial. For the latest episode of "What Just Happened," host Christine Russo further explored the hows and whys of this pressing issue by interviewing Cara Smyth, Global Senior Managing Director for ESG and Responsible Retail at Accenture, and Chair […]
Read More