What the CEOs of Fanduel and Draftkings Predict About the Future of Sports Betting
The fans remember the highlights but the franchises remember the technology, data, and inventions that powered their season. Host Tyler Kern sits down with the innovators, leaders and founders that are taking sports into the future.
Welcome to Salary Capped. I'm your host, Tyler Kern. Pleasure to have you along today. One of the biggest topics in sports in 2020 was the conversation around sports betting. Part of that conversation involved:
How exactly do you have sports betting, and how do companies like DraftKings and FanDuel continue to survive when there aren't sports being played?
Well, DraftKings CEO Jason Robins responded to that question. Here's what he had to say.
"Our immediate focus turned to, 'How do we engage our customers without sports?' And, then, how do we prepare for the return of sports? And, you know, it was really amazing to watch the team rally together. They put out 70, 80 different pools and fantasy games for things like the Bachelorette, Top Chef, Curb Your Enthusiasm, political debates, just all kinds of stuff. We've created simulated NFL games with a partnership with eSports using the Madden NFL. Games have computer versus computer simulations, and people are playing fantasy on those" Robins said. "And, you know, we've also seen sports like Korean baseball really take off from a fantasy perspective. And [table tennis], at one point, was our No. 1 in sports betting. So, it's been really cool to watch the team rally around that. They've enhanced our offerings. We now have streaming for things like [table tennis] and Bundesliga so that, while people are betting on them, they can actually watch them. And then sports started to — traditional sports, I should say — return. One other thing I forgot to mention was eSports grew tremendously for us, so we really expanded that offering, adding a number of new eSports leagues, which is something I'm very excited about. Because, personally, I'm a believer in eSports. And I think it's going to be a big part of our future."
So, that's how DraftKings pivoted early in 2020 when we lost out on a lot of sports that would have normally been played. We missed out on March Madness. We missed out on the beginning of the baseball season, which didn't start until much, much later in the year. So, that certainly hampered some of the things DraftKings was able to do.
So, they pivoted. They turned their attention elsewhere. Now, what's the future for sports betting, and how do these companies like DraftKings and Fan Duel continue to grow into the future? What does the market hold? FanDuel CEO Matthew King responded to that question and gave his insights on how he thinks this thing continues to move forward.
"I think, in terms of the gaming space in general, you will see a recognition of how important online is both in sports betting and casinos to the long term growth of the category. And that's going to be something that I think both the casino operators take note of, but also state regulators," King said. "The reality is gaming is a huge tax driver, and a lot of states and in a world where you have physical casinos aren't able to operate back at full capacity for a sustained period. I think you're going to see consumer demand for online gaming expand, but you're also going to see legislative interest in authorizing and expand because it's the right way to rebuild the tax base."
I think one of the most fascinating things to continue to follow is what King was talking about there, and that is how these states legalize or choose not to legalize sports betting based on tax revenue. At this point, if you look at a state like New Jersey that's had massive success around sports betting, and then you look at other states that right now are struggling because of COVID-19 and some of the other things that are shut down — because of some of the revenue that states are losing because of that, that tax revenue that they're losing, maybe sports betting becomes an option in the future.
That's something we'll have to keep an eye on. But I'm also really curious to see what the public's attitude toward sports betting is right now. It just seems like it's growing continuously as people want to be engaged with sports on a higher level. And sports betting is a great way to do that.
But what happens when people realize people in Vegas are smart people setting these betting lines? They know what they're doing. They didn't build all of these massive casinos because they lose a lot. That's the thing that I'm curious to see. If people continue to lose in sports betting, which does happen, does the appetite still continue to be there to continue the sports betting that will allow this market and this Avenue to continue to grow? Because, if not, if people start dropping off and saying, "Look, it's impossible to win big on sports betting. Vegas just knows too much. The sports books just know too much. There's no way to win." Then, I think you might see the appetite begin to decline a little bit.
So we'll just have to see what happens in the future. But that's one of the things I'm interested to watch in 2021, especially as it relates to sports betting.

*Contributions to this content were made by Bloomberg.
Latest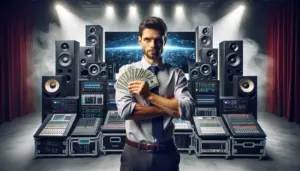 December 8, 2023
Mastering AV sales strategies in a global professional audio-visual (Pro AV) market, poised to reach $79.2 billion by 2028, requires much attention to detail. The surge in demand from corporate, government, and institutional sectors, driven by the need for enhanced productivity and efficient working environments, gives AV sales pros a lot of opportunity. In […]
Read More