Which Lenses Filmed This Year's Oscar Nominees? Turns Out There's a Newcomer in Town
Everything Everywhere All at Once took home the golden statue from the field of ten Oscar nominees at the 2023 Academy Awards. Behind the scenes is an interesting story about the technical achievements of the movies receiving honors at this year's Oscars. The stars behind that tale are the cameras and lenses that make the images flickering across movie screens possible.
Nine of the ten Oscar-nominated films for Best Picture utilized digital cameras mounted with sophisticated, technologically-advanced lenses from some of the industry's most noted players, including Zeiss, Fujinon, and Panavision. Only Steven Spielberg's The Fabelmans was shot on traditional film stock.
What's more impressive, today's digital movie cameras, like the ARRI ALEXA 65, allow filmmakers to capture hi-resolution images that previously could only be achieved through large-format 65mm film cameras. Women Talking used Panavision's Millennium DXL2 camera with Panavision Primo and Ultra Vista lenses. This camera and lens package allowed director Sarah Polly to shoot in the same ultra-wide 2.76:1 aspect ratio Quentin Tarantino used in his film, The Hateful Eight, but in a digital format.
What were other notable lens-technology achievements on display from these Oscar nominees? Aaron Willis, producer of live broadcast for MarketScale, found an industry newcomer making its presence felt amongst this year's films.
Aaron's Thoughts
"One of the most interesting technical facts to come out of the 2023 Oscars is the shift in lenses and optics used in this year's batch of nominees. It's certainly no surprise to see Panavision and ARRI on this list but rounding out the top five is a relative newcomer in cinema optics, Tribe7.
Tribe7 is notable for its tunable lenses that allow you to change the look and response of your footage using these interchangeable optical elements. And this year, they were used in two of the five nominees for best cinematography, including the winning film, All Quiet on the Western Front.
Considering the company is relatively new in this space, founded just under four years ago, I'm really looking forward to seeing what projects these lenses will be used on in 2023 as well as any new products from them moving forward." 
Article written by James Kent.
Latest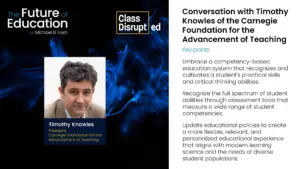 December 4, 2023
What approaches must education take in advancing teaching in a post-pandemic world? How can traditional education reshape itself to include a more dynamic, skills-based learning approach? As educational paradigms shift towards nurturing adaptability and critical thinking, leaders in the field are poised to redefine the learning framework to prepare students for a rapidly evolving […]
Read More