Why Sports Teams are Swapping Helmets for Virtual Reality Headsets
"Get your head in the game," just took on another meaning. One of the key factors in excelling in sports is not only attributed to physical well-being, though that is a large part of it, but mental aptitude. The ability to quickly respond to a pitch, to tune out the cheering crowd, all while strategizing on who to pass the ball to, all depends on cognitive abilities.
As with anything, practice is key in perfecting a skill. One of the reasons athletes practice is to prevent serious injuries from occurring. In professional sports, especially contact sports like football or rugby, going on the field to practice plays or go over what went wrong last time, can sometimes result in a player getting injured.  According to the NFL, in 2017, there were 45 incidents of concussion related injuries sustained during preseason practices and 91 overall.
Ideally, coaches and players want to be able to advance their techniques, boost their performance and have the game plan memorized, all without the risk of injury to the athlete.
Virtual reality (VR), can help reduce the risk of injury, while improving an athlete's performance on the field. The continual advancement within VR technology has permitted players to feel completely immersed in the virtual environment that has been created for them.
One of the few VR options available today is called NeuroTrainer. Developed by neuroscientists to help coaches and teams associated with the NCAA, this VR instrument focuses on strengthening key areas of the brain associated with in-game performance.
Jamie Moran, a business developer at the Silicon Valley-based company pointed out where the market is moving and what teams gain from utilizing virtual reality into their training regiments.
"It's one step closer to running real life situations without the risk of injury, the cost and maintenance of a facility, the staff to support it…it's all there, a one stop shop strapped to the head of the athlete."
Other major sport organizations such as, the NFL, U.S Ski and Snowboard, and MLB have incorporated some form of VR in their training programs.
"There are a few different ways we've seen them onboard VR, from running reps of plays using pre-recorded 3D footage, to mental strength training to concussion detection," Moran said.
VR is not just prevalent in sports training, many companies, such as Walmart, JetBlue, and even Chipotle are using VR for training purposes. STRIVR states on their website that the learning retention rate of those training with VR is 75% compared to 10% when reading or being lectured to.
Moran believes VR will continue to grow steadily over the next 4-5 years.
"Companies who use VR as a tool to solve real-reality problems will pave the way for the industry as a whole in terms of market adoption by showing how much VR is really capable of," he said.
Until recently, athletes would rely on their imaginations and memorization skills when fashioning different scenarios in their minds of how certain plays might turn out. This practice has some flaws, such as precision of details.  Progression in VR technology and 360-degree cameras enables coaches and athletes to integrate accurate stats, data and previous plays into a VR tool that can produce a simulation that the player can virtually interact with.
Latest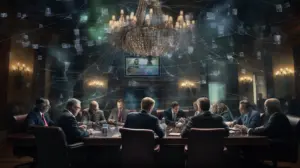 October 3, 2023
In August 2023, the National Institute of Standards of Technology (NIST) put out a request for comments on the Preliminary Update from the Internet of Things Federal Working Group (IoTFWG), which aims to provide the nation direction on how to improve IoT adoption and expand its use cases for the future of industrial, corporate, […]
Read More