YouTube's Investment in AI Could Prove a Win for Digital Content Creators, Generating More Views and More Revenue
In partnership with Google DeepMind, YouTube is venturing into a new frontier of Artificial Intelligence (AI)-driven creativity, unveiling Dream Track for Shorts and a suite of Music AI tools for digital content creators. This pioneering move aims to forge deeper connections between artists, creators, and fans, with notable names like Demi Lovato and John Legend lending their AI-generated voices to the experiment. The initiative's design augments the music creation process, allowing for personalized tracks and instrumental accompaniments from simple hums. YouTube's collaboration emphasizes a responsible and innovative approach to AI, seeking to enrich the platform's creative ecosystem while considering the implications of AI's role in content generation. This strategy positions YouTube to maintain its competitive edge in the short-form content sphere, directly countering the rise of platforms like TikTok and Instagram Reels.
How will YouTube's advent of AI-generated content features sharpen its competitive edge against TikTok and Reels and redefine advertising and monetization for digital content creators?
Kelli Burns, Ph.D., a Public Relations Professor and Social Media Researcher at the University of South Florida, highlights these AI tools' transformative impact on content creation.
"These AI tools that you have can make it easier for creators to create content, and hopefully reach that 10 million view threshold on their short-form content… and receive compensation for their videos," Burns said.
Article by James Kent
Latest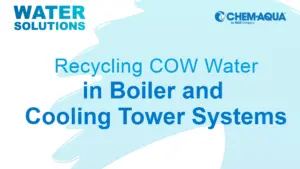 December 7, 2023
For the latest episode of ChemAqua's Water Solutions podcast, the focus was on an innovative approach to water conservation in the dairy industry. The show examined the potential of reusing Condensate of Whey (COW) water, a byproduct of dairy processing, and highlighted some of its economic and environmental benefits. Hosted by Dani Waddell, the informative […]
Read More