American Airlines Investment in ZeroAvia Further Validates Hydrogen Fuel Initiatives
American Airlines recently announced that it's investing in the world's leading hydrogen-electric engine developer, ZeroAvia, now the most prominent airline with a financial stake in the company. In addition to the investment, American will have the opportunity to order up to 100 engines from ZeroAvia's hydrogen-electric powertrain development program. These engines are intended to power regional jet aircrafts with zero emissions, and with them the potential to play a key role in the future of hydrogen fuel and sustainable aviation.
With American's support, ZeroAvia is now moving forward with test flights of its 600-kW ZA600 hydrogen-electric powertrain, with the goal of starting hydrogen-fueled commercial operations for 19-seat aircrafts by 2024.
Securing $35 million in investments from United Airlines and Alaska Group at the end of 2021, ZeroAvia's partnership with American Airlines is a welcomed addition to its Series B closing total of over $150 million in outside investment.
"Having support from the world's largest airline is a strong indication of the progress we're making on the development of hydrogen-electric, zero-emission flight. We are focused on delivering sustainable travel, and are delighted that American, a visionary leader in the industry, sees ZeroAvia as a part of the future of aviation," wrote Val Miftakhov, Founder and CEO of ZeroAvia.
Not only is hydrogen energy a genuine source of fuel for aviation, but it's cleaner, lighter, and safer for planes to operate on. It is the most abundant element in the universe, and in liquid form, contains roughly 2.5 times more energy per kilogram than the current standard for airline fuel, kerosene. Furthermore, since the fuel has no carbon content from the start, hydrogen only produces water vapor as a by-product, and during combustion would produce up to 90% less nitrogen oxides.
"Hydrogen powered with electric engines has a better energy density than equivalent battery powered aircraft, and it's inherently safer than conventional aircraft. Hydrogen is a lighter than air fuel source, meaning it dissipates very quickly, and relative to fossil fuels it's certainly less explosive," said Joe Massaquoi, CFO of hydrogen-powered air freight company H2 Clipper.
Industry leaders are "optimistic" about the prospect of reaching hydrogen-powered air travel by 2035, a goal set by the WEF's Target True Zero Initiative. ZeroAvia, a key player in this initiative and part of the 40-company coalition, has been honing its research around lightweight fuel cell systems, and is eyeing the use of its technology to support the goal of hydrogen fuel cells for "mid-range flights" and hydrogen combustion engines for "long-haul flights."
"We support Target True Zero's findings that technology like ours will allow an aircraft with a range of up to 2,000 km by 2030 (London to Athens) and 4,000 km by 2035 (New York to San Francisco), and our technology development will help make this happen. These will be key accomplishments in the pursuit of net zero," Miftakhov wrote for the WEF.
While we are continuing to see large interest and investment from major US aviation companies, there is little to show from the increasing flow of capital just yet. Engineers on both the aircraft and avionics side of the industry are very much still in the trial phase of designing hydrogen-capable air travel. Most of the actionable use cases for hydrogen fuel in the aviation industry are coming from small-scale endeavors, with companies such as Honeywell continuing to roll out hydrogen fuel power cells to accomplish complex UAV missions.
In comparison, other innovators like California-based H2Clipper are continuing to develop larger scale hydrogen-fueled aviation alternatives with a focus on logistics use cases.
"At H2 Clipper we certainly recognize the huge demand for hydrogen as a fuel source, and have made advances to support an air ship that transports green hydrogen, effectively using green hydrogen as both a fuel source and a payload," Massaquoi said.
Much of H2 Clipper's structural support and motivation is coming from a climate of green energy development in California. Leading the nations hydrogen energy adoption, California's goal is to get 1.5 million zero-emission vehicles on the road by 2025. Through the Clean Transportation Program, the California Energy Commission is supporting the adoption, and expanding the network of hydrogen refueling stations throughout the state. In the push to improve air quality and achieve their climate change goals, they have seem the transportation emissions decline 3.5 million metric tons between .
"In California, there are over 6,000 hydrogen powered cars on the road today, and you can look across the country at over 50,000 hydrogen powered fork lifts," Massaquoi said.
In a nutshell, hydrogen is a critical piece of the game plan for achieving net-zero given that it produces no carbon emissions. American Airlines sees it as such, incorporating hydrogen fuel into its 2035 GHG emissions reduction targets and larger plan for achieving net-zero GHG emissions by 2050.
"It uses renewable resources in its production," Massaquoi said. "From an industry perspective, we're encouraged by the broader and broadening universe of participants in the hydrogen ecosystem."
Likely, both hydrogen fuel cells and hydrogen combustion technology will prove needed for validating hydrogen as the next fuel standard for aviation. Aerospace components and multi-technology supplier GKN Aerospace, in partnership with engine systems company FSE and zero-emissions transition company Fabrum, are making tangible steps to prove the functionality of liquid hydrogen, creating facilities for aviation innovators to test their designs and technology.
However, detailed research from the likes of McKinsey and WEF are finding that "power-to-liquid (PtL) fuel" production, which includes the production of liquid hydrogen fuel, is an area needing more active investment. Creating PtL fuel is a complex process, with key steps requiring massive capital investment, including "creating renewable electricity and hydrogen, capturing carbon, and synthesizing fuel."
While companies prove the capabilities of sustainable aviation fuel, achieving a goal of developing a functional PtL supply chain would act as the bedrock of future scaled SAF use, as McKinsey's research explains it would "significantly diversify and expand SAF supply to meet future demand."
If airlines can continue to support this technology beyond just regional jets and invest enough into R&D to scale engine functionality for commercial flight, the world will be one step closer to normalizing green hydrogen energy at scale.
Article co-written by Abi Wolf and Matt Franje.
Latest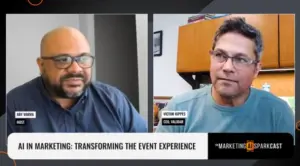 November 28, 2023
AI has been gradually changing the landscape of event technology at a very rapid pace. In an industry where staying ahead of technological trends is crucial, AI's impact on marketing and event management has become increasingly significant. As witnessed in the rise of account-based marketing and enhanced personalization, AI is effectively reshaping how events […]
Read More