What Does the Future Look Like for Electric Trucks?
By now, you're familiar with the wave of electric vehicles (EVs) sweeping across the globe – they're a forward-thinking, environmentally conscious option that many have come to associate not only with sustainability, but with aesthetics and performance.
But, when you close your eyes and envision the future of our shared roadways, how often do you picture an electric truck?
These new, electric trucks are some of the most exciting innovations to come out of the EV movement – and, apparently, also one of the industry's best-kept secrets.
It's time to change that.
Much More Than a Toned-Down Truck
There are many common misconceptions surrounding electric trucks – ideas that they don't perform the same, aren't as powerful, don't elicit the same feeling of a traditional, gas-powered truck, and can't provide the get-up-and-go when you need it, among other assumptions, keep many away.
However, all of those preconceived notions are inaccurate.
Electric trucks have comparable strength and power.
The pickup crowd is often quick to point out that electric vehicles simply don't have the same muscle as their tried-and-true gas counterparts, though that isn't the case. Electric motors can provide serious torque and towing capabilities, meaning that owners who leverage their trucks for heavy-duty applications won't have to miss out on those capabilities.
They have long-range batteries and actually promote better handling.
Trucks can actually better accommodate larger, longer-range batteries than other EVs, meaning that the range on electric trucks is better than most imagine. Also, a lower center of gravity could improve upon one undesirable aspect of traditional trucks – their handling and top-heavy nature.
They have sports car-like acceleration.
Electric truck owners also won't need to sacrifice a little bit of fun. EVs, in general, get a bad reputation for lacking acceleration, but modern electric motors can deliver the quick acceleration so many seek out in their vehicles.
So, What Options Are Out There?
Currently, there are plans for several legacy carmakers, such as Ford and Chevy, to convert their traditional pickup lines into electric offerings.
However, options from EV mainstay Tesla and an exciting startup in Rivian could reshape the industry.
Let's take a closer look.
The Tesla Cybertruck
Tesla's truck offering – which is futuristic looking, to say the least – offers:
A durable exoskeleton made from cold-rolled stainless steel and Tesla armor glass
Up to 3,500 pounds of payload capacity
100 cubic feet of exterior, lockable storage
A towing capacity of over 14,000 pounds
Adaptive air suspension
0-60 in as little as 2.9 seconds
500 miles of range
The Rivian R1T
Featuring a more traditional pickup truck aesthetic, the R1T offers:
400+ miles of range
0-60 in three seconds
A quad motor system
A wading depth of over three feet
A towing capacity of 11,000 pounds
Up to 750 horsepower
Extensive lockable storage
The Future of EVs Keeps on Trucking
It's clear that electric trucks have a wide variety of benefits and potential applications – from boosts to fleet efficiency and heavy-duty individual applications to luxury lifestyle choices and more, electric trucks are ready to make a big splash in the coming years.
And Arbin's battery testing capabilities are helping to make that possible, aiding the industry in developing long-lasting, high-performance batteries that help EVs reach their full potential.
To learn more about Arbin's key role at the forefront of the EV industry, visit arbin.com/battery-test-applications-electric-vehicle/.
Latest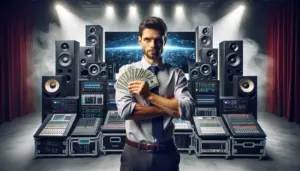 December 8, 2023
Mastering AV sales strategies in a global professional audio-visual (Pro AV) market, poised to reach $79.2 billion by 2028, requires much attention to detail. The surge in demand from corporate, government, and institutional sectors, driven by the need for enhanced productivity and efficient working environments, gives AV sales pros a lot of opportunity. In […]
Read More