Cargomatic remains upbeat despite import downturn
This article originally appeared on Cargomatic.com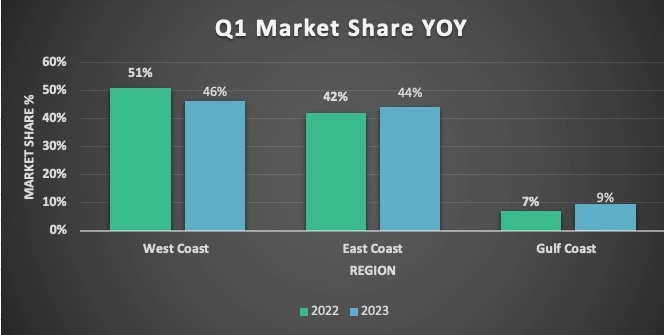 MAY 10, 2023 — U.S. ports continued a slide in throughput during March, bringing the first quarter of the year to a close on a downward trend largely due to fewer imports by retailers seeking to reduce overstocked warehouses.
While the trend is currently down, the general expectation is that cargo will rise in the coming months, a viewpoint shared by Cargomatic President Ed Aldridge, a 50-year veteran of the supply chain industry.
"Throughout my career, I have witnessed a lot of peaks and valleys in freight volumes. The industry won't experience the unprecedented surge brought on by the pandemic, but the market will recover as buying patterns normalize," stated Mr. Aldridge.
That upbeat view of cargo growth for the industry is echoed by the National Retail Federation which said that "import cargo volume at the nation's major container ports should climb steadily through this summer."
1Q 2023 results
Meanwhile, the U.S. saw an overall decline of  25.64% in imported container traffic year over year (yoy) for the first quarter, ending in March.
While the downward trend was most notable on the imports side, overall container traffic across the top ten ports during the first quarter was down some 22.35% yoy, except for Houston which saw a 3.39% rise in its year-to-date traffic.
Labor talks affect USWC imports
Labor negotiations contributed to reduced West Coast traffic as shippers diverted cargo to the East and Gulf coasts, seeking to avoid potential port slowdowns.
Gene Seroka, Executive Director of the Port of Los Angeles, last month underscored the problem, saying that "a negotiated labor agreement is crucial in our efforts to regain shipper confidence and bring the cargo back to LA…  Simply put, there's no bigger priority right now than this contract agreement."
The West Coast ports saw their market share erode by 4.54% during the quarter, with the East and Gulf Coasts picking up 2.19% and 2.35% of that diverted traffic respectively.
Unsold inventories 
In April, the Commerce Department showed where consumer priorities lie.
"Retail trade sales were down 1.2% from February 2023, but up 1.5% above last year. Non-store retailers were up 12.3% from last year, while food services and drinking places were up 13.0% from March 2022," it said.
Christopher Tang, a professor at the UCLA Anderson School of Management, told Barron's that retail sales fell 1% in March, "dragged down" by high inflation.
But more to the point, Professor Tang said that "while demand is stagnant, retailers are facing bloated warehouse inventories that they ordered during the pandemic to cope with surging demand in 2021."
In a word, while consumer spending has largely been robust in the first quarter of the year, it is spending on goods already in the country and not on new imports as retailers seek to reduce current inventories.
Key takeaways
Import container volumes are expected to increase as retailers see their current inventories reducing. Consumer spending is key to that reduction, and there is no significant sign that the nation's buyers are holding back.
Meanwhile, the eastward drift of container traffic away from the West Coast ports also is expected to decline once a new contract between dockworkers and their employers is in place.
The high demand for West Coast services was evident in March when more than 200 retail organizations urged the Biden administration to use its influence to ensure a speedy conclusion to the labor negotiations.
With that many organizations seeking government intervention, it's clear that increased cargo is likely to find its way through the West Coast ports once a labor accord is in place.
As a national company operating in local markets, Cargomatic is poised to serve customers wherever and whenever the expected uptick in cargo volumes begins to take shape.
As Cargomatic President Ed Aldridge stated, "Our agile business model, innovative technology offering and lower cost to serve uniquely position us to take excellent care of our customers in this market. Simply stated, we get the job done and do what we say we will do."
Latest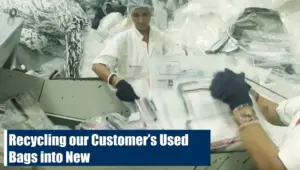 December 6, 2023
This video focuses on EcoLOK4, a groundbreaking product by CONTROLTEK that exemplifies innovation in sustainability. It highlights the process of transforming landfill waste into new deposit bags, with 90% of each bag's material being repurposed trash. This initiative not only reduces waste but also closes the sustainability loop, demonstrating CONTROLTEK's commitment to environmentally friendly […]
Read More