CES 2023: Mobility Technologies Drive Discussion and Innovation at CES
It's that time of year again: CES time, with CES 2023 now behind us and a week's worth of insights and standard-setting technologies carving a yearlong path for the consumer electronics industry. The spread of CES 2023 technologies and products was as exciting as ever, and MarketScale had a firsthand look at the top products and companies getting the most buzz while on the show floor this year.
CES, at this point, speaks for itself in terms of reach, impact, and trendsetting. As the premiere global tech event, the Consumer Electronics Show brings together brands, technologists and innovators, big and small, under the same Vegas roof to discuss the future of various technology ecosystems and markets. This go-around, CES 2023 technologies were varied but unified in their shared goals of sustainability and smart technology, with a focus on "energy efficiency, responsibly recycling, and sustainable materials management," as well as how smart systems can "optimize operations and efficiently manage resources as they move to strengthen the relationship between government and citizens." This led to discussions surrounding the role of sustainable electronics production and the adoption of renewable energy sources for industrial production, as well as discussions on developing the legal and physical infrastructures needed to support continuously-advancing smart city deployments, among other important debates.
It's no surprise then that the world of aerospace, transportation, and mobility was front and center in guiding discussion at CES 2023, as the industry is acting as a driving force in both critiques and solutions for sustainability initiatives and smart system development. MarketScale spent much of its time this year exploring this ecosystem of CES 2023 technologies to understand what is driving innovation in mobility, from evolutions and expansions of EV markets, EV production, and autonomous vehicles, to use cases for micro-mobility, last-mile mobility and logistics, new public transit methods, vertical takeoff and lift air taxis, and more.
How do the innovators in this space see their products fitting into the current evolutions in vehicle technology? Let's hear from the companies themselves! These are just a handful of the standout mobility companies and products that captured MarketScale's attention at CES 2023. We asked them how their suite of products reflects a major trend shaping the industry right now. Here're their thoughts:
Personal Automotive Sector
Aceinna, a leading MEMS-based sensing solutions company, focused on the development of innovative Inertial Measurement Unit (IMU) and current sensing technologies that are essential to next generation cars, robots and other autonomous applications. Michael DiGangi, Executive Vice President at Aceinna, gave us the latest in his company's technologies fresh off the market, which include the INS401.
Point One Navigation is a company committed to solving the navigation problems of the future through their high precision localization. Aaron Nathan, CEO and Founder of Point One Navigation, shared with us more on their status as a team sponsor at the Vegas Indy racing challenge and what positioning technology is being used in the race.
Applied EV is a company that inspires leaders in the creation and commercialization of fully-autonomous vehicles seeking to improve global transport solutions through automotive innovation, leveraging software development and deep robotics capability. CEO and Co-Founder Julian Broadbent gave us an overview of what new technology Applied EV is showing this year at CES 2023, and what solutions the future of autonomous service brings us.
Sheeva.AI is a company that has developed an in-car payments and commerce solution that introduces vehicle location-based services to monetize the driver experience. Sheeva's patented precise geolocation technology allows drivers to seamlessly pay for and receive services such as fueling, electric vehicle charging, parking, curbside pickup and drive-through without leaving the comfort of their vehicle. Sheeva's Director of Strategic Partnerships, Trevor Curwin, told us more about the technology that Sheeva.AI leverages and how companies are already putting in-vehicles commerce solutions to work.
Arbe is the industry's leading imaging radar chipset solution with a mission to equip vehicles with top of the line radar technology and develop innovative perception features without needing to upgrade their radars throughout the vehicle lifecycle. Kobi Marenko, CEO and Co-Founder of Arbe, dug deeper into the full-mapping radar technology solution that Arbe offers and what to expect from them at CES 2023.
Blink is a company paving the way for EV adoption through the global deployment and operation of EV charging infrastructure for businesses and drivers. Mike Battaglia, CRO of Blink, gave MarketScale an inside look into five new products for the EV charging market at CES 2023, including a sneak peek at Blink Vision which features dual AC Level 2 80 amp 19.2 kilowatt charging capability.
Compound Eye is a company that enables vehicles to understand their surroundings in 3D and in real time using only cameras, with applications from intelligent in-dash displays to fully autonomous operation. Jason Devitt, CEO and Co-Founder of Compound Eye, detailed the specs of the company's 3D sensing and perception technology enabled by cameras alone, what sets it apart from other sensing technology, and which industries can best utilize this tech.
FreeWire Technologies is a company that merges beautiful design with innovative ultrafast charging technology to enable the rapid transition to electrification. Connor Botkin, Marketing Director for Energy and eMobility at FreeWire Technologies, shared more about the company's newest tech including FreeWire's latest charging models including their 200-kilowatt output unit.
Analog Devices is a tech company that is committed to creating unmatched technologies and solutions to solve consumer problems in instrumentation, automation, communications, healthcare, and automotive industries, among others. Kevin Schemansky, GM and Managing Director of the Automotive Business Unit at Analog, gave a recap of the unique suite of vehicle technologies that Analog is trying to differentiate itself with at this year's CES.
Owl Autonomous Imaging, Inc. is an autonomous imaging solution company that focuses on thermal ranging, a novel 3D sensor modality that uses proprietary AI deep learning and foveal optics to extract dense range maps from radiated heat signatures without illumination. Chuck Gershman, CEO and Co-Founder at Owl Autonomous Imaging shared with MarketScale which autonomous imaging technology and testing results their company is featuring at CES 2023.
Bosch is a company that develops innovative solutions that facilitate new mobility offerings. Whether for private or commercial vehicles, multimodal transportation services, fleet management, or smart transport infrastructure, Bosch brings together vehicle technology, the data cloud, and services to offer complete mobility solutions. Rich Kohler, Director of Marketing at Bosch, gave MarketScale an overview of the latest tech that Bosch is featuring this year at CES 2023, including its SPACE Car.
Industrial & Logistics Sector
Centro is a revolutionary commercial EV technology company with advanced, market-validated commercial vehicles leading transformation in the auto industry through scalable, decentralized production and fully digitalized autonomous driving solutions. Marianne McInerney, CMO at Centro, gave us an in-depth look at game-changers in the EV space, including vehicles powered by hydrogen fuel cells and more.
Qorvo is a company driven by the possibility of discovery — of new RF and power technologies and advancements in design, manufacturing and communications that make the world a better, cleaner and more connected place. Gorden Cook, General Manager at Transport Business Unit, shares with MarketScale what his team brings to the industry, including their work on ultra-wideband, which is short-wave communication for vehicles.
Airgain, a wireless company that helps simplify wireless connectivity, showcased an array of exciting products and new services on the market for the sector at the recent CES. Focusing on three areas of the business, Brian Critchfield, VP of Global Marketing with Airgain, explained the difference between their multiple offerings. Airgain Embedded, for example, helps to build an IOT product and bring it to market, Airgain Integrated provides off-the-shelf products that integrate the technology all into one, and Airgain Antenna+ features all of the external antennae. Critchfield highlights all of this, plus a new specialized expertise and fixed wireless access offering.
James Eberhard, the CEO and Founder of Fluid Truck, talked about the exciting and inspiring atmosphere at CES as a first-time participant at the show. The event hosts a multitude of innovative companies located across the US, and as a transformative commercial mobility company, Fluid Truck is on the lookout for where they could go next.
Jorge Heraud, VP of Automation and Autonomy with John Deere welcomed MarketScale to the CES John Deere booth, explaining what's new for the company. One of the biggest innovations actually comes on top of a machine that has been on the market for nearly twenty years: the sprayer. On this latest version, the machine is equipped with technology such as cameras, a stable boom, and processors, which means that instead of spraying everything in the field, the sprayer can identify the location of the weeds and solely target them, helping to cut down on herbicide usage.
Latest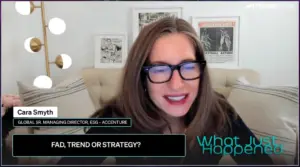 November 30, 2023
The world is in an era where sustainability and responsible retail business practices are increasingly crucial. For the latest episode of "What Just Happened," host Christine Russo further explored the hows and whys of this pressing issue by interviewing Cara Smyth, Global Senior Managing Director for ESG and Responsible Retail at Accenture, and Chair […]
Read More