Coastal Defense Incorporated Enters Into An Agreement To Join The AIRO Group
Mill Hall, PA, August, 31, 2020
:
Coastal Defense Incorporated
has entered into an agreement in principle to join the AIRO Group (US). Coastal Defense joins a group of nine aerospace businesses all engaged in frontline technologies and services supporting a diversified portfolio of aerospace companies supporting commercial, military, robotics, manned/unmanned aerial systems and multi-modal aircraft and avionics systems.
Coastal Defense provides commercial close air support and intelligence, special missions training, surveillance, reconnaissance, including unmanned tactical systems to support the
Department of Defense
, 
Department of Homeland Security
,
Federal Bureau of Investigation
,
FEMA
and other government and private agencies. The business holds contracts with the US Government that require Top Secret Compartmented Information clearance allowing the business to work with top tier security organizations.
"This is a very exciting development for our current and future customers as well as our employees who are the core of our success," said
Kyle Stanbro,
founder and president of Coastal Defense. "Our success is based on the personnel we hire. We pride ourselves in being able to hire highly-trained special operations veterans who understand our no fail attitude for each mission. They have been trained to work in the military's top-tiers and have served and continue to serve their country with honor. This partnership will help strengthen and grow the business by leveraging the group's expertise that span a wide range of rapidly growing aerospace markets so we can continue to provide unmatched services to our customers," continued Stanbro.
About Coastal Defense
Coastal Defense provides a completely integrated team for public and private agencies to assist in training. We utilize the latest equipment and software to provide realistic training
to increase the customers success down range. Services include commercial close air support, intelligence surveillance, reconnaissance, unmanned tactical systems and secure video transmission capabilities, and unmanned mock-up and towable systems. Coastal
Defense is a Service Disabled Veteran-Owned Small Business (SDVOSB) employing highly-trained special operations veterans. The company can be found at
About The AIRO Group
The AIRO Group
brings together decades of industry-leading technology with its group companies to provide best-in-class products and services uniquely capable of addressing a wide spectrum of aerospace markets. The AIRO Group leverages technologies that
span data systems, resupply package delivery, military aerospace training, military, and commercial manned/unmanned aircraft systems and avionics technologies. Together, these companies represent a transformation of the aerospace industry by providing a diversified
offering of capabilities positioned to be the first mid-tier, full-spectrum aerospace company offering end-to-end solutions for the industry. The company can be found at
www.theairogroup.com.
Latest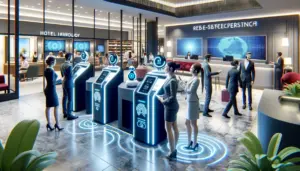 December 8, 2023
Facing critical staffing shortages, over 80% of hotels struggle to fill positions despite offering higher wages and flexible hours, as reported by a recent American Hotel & Lodging Association survey. While slightly improved since May 2022, this situation highlights a significant challenge in the hospitality industry, with housekeeping roles being the most urgently needed. […]
Read More