Electric Vehicle (EV) Auto Market Share is Increasing. How are Delivery Services Implementing EVs?
The electric vehicle (EV) market is getting hotter in the U.S., accounting for 2.2 percent of car sales in the third quarter of 2020 and making a jump to 6.1 percent in the third quarter of this year. It seems that delivery services may be jumping on the EV bandwagon lately, with U.S. Domino's recently purchasing 800 Chevy Bolt EVs.
Why might delivery services like Domino's invest in the expense of EVs? For one, it will help the company achieve their goal of net-zero carbon emissions by 2050. Not only will this movement help the environment, but Domino's also believes EV adoption will improve delivery driver recruitment, which has been lacking recently at the company.
Just how is Domino's planning to successfully roll out their EV use? Have they had any pilot programs that will help map out their plan for the rollout? David Breault, Business Development Manager, Alta Emobility, explains some of the key details of Domino's project and why this project is a solid fit for the company.
David's Thoughts
"Hi, my name is David Breault, I'm the business development manager with Alta eMobility and wanted to provide a brief comment on their recent announcement from Dominoes on their electric vehicle fleet. As you can imagine, this makes a ton of sense for Dominoes, given the nature of a pizza delivery vehicle, high idle time, short distances, return to base.
You know, urban areas, reducing tailpipe emissions and adding the latest safety features for the drivers is a great fit. The fact that they can deploy these vehicles across a wide variety of franchises and store locations also makes sense from an infrastructure perspective, right?
They're not landing on one grid or one location, they can utilize different incentive programs, grants, and make ready programs across the country and deploy it. You can actually track their progress on the website, which again, I think another great leverage of technology where you can see the vehicles actually being deployed and their future goals.
So, kudos to the entire fleet team over at Dominoes. The sustainability, the ESG and senior leadership. This does take a bit of a village to deploy a large-scale number of vehicles, including support from the vehicle manufacturers, fleet management companies as well as utilities and other folks involved locally.
So great success and I look to hear him more."
Latest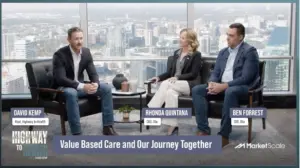 December 7, 2023
As of recent times, the healthcare industry has been progressively shifting towards value-based care, a model that emphasizes patient outcomes over the quantity of services delivered. This transition represents a significant shift that promises to enhance patient experiences and outcomes while controlling healthcare costs. With a growing emphasis on this approach, especially over the […]
Read More