Etihad Airways CEO Claims that Airline Will Be the First to Fully Vaccinate Crew
A recovery from the coronavirus crisis is taking longer than planned, but should be in place in two years time, Etihad CEO Tony Douglas told Bloomberg's Manus Cranny as the company announced 100% of airline crew have been vaccinated with the Sinovac vaccine. This is the first airline to vaccinate the entire crew saying 'some form of wellness certification will be the way forward.'
Watch the video above or read an excerpt from the interview below.
—
Douglas: When this pandemic first came into mainstream reality, probably this time last year, the forecasts then were recovery to 2019, passenger volumes by 2022, and the more pessimistic ones went into early 2023. Here we are a year later. And that forecast, sadly, hasn't really improved. It's probably moved almost linear. So at the moment where we're at is probably 2023 when we ever get back to 2019 numbers. But as I said before, the important thing here to do now is to adapt to the new reality of all of this.
Cranny: I've had my vaccination. Where are you with crew vaccination?
Douglas: So the big story today, and I'm absolutely delighted to share it with you and your viewers first is as follows. Etihad today is the world's first commercial airline to operate with 100% vaccinated crew and cabin crew.
Cranny: Is that a choice of vaccines? Or is it one vaccine?
Douglas: So we've adopted one vaccine. The whole of our organization, me included, I elected very early this year to get vaccinated. And I really want to go on record to thank the amazing participation from the whole of the family, because we're doing this because it's the right thing to do for the right reasons for ourselves, our loved ones, but importantly, in our line of business for the traveling public, our guest.
Cranny: How critical is a vaccine passport to getting confidence in all the traveling public back on these planes?
Douglas: So I've been calling this one out pretty much since March of last year, that some form of wellness certification will be part of the way forward in the same way visas used to be issued as a rite of passage. It's very easy to link the status of somebody who's testing or vaccination.
*Bloomberg contributed to this article
Latest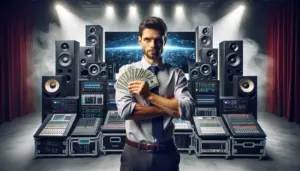 December 8, 2023
Mastering AV sales strategies in a global professional audio-visual (Pro AV) market, poised to reach $79.2 billion by 2028, requires much attention to detail. The surge in demand from corporate, government, and institutional sectors, driven by the need for enhanced productivity and efficient working environments, gives AV sales pros a lot of opportunity. In […]
Read More