Ford CEO: "We were able to offset almost all of the chip shortage impact."
On the heels of the new electric F-150 announcement, Ford CEO Jim Farley claims that the company was able to offset most of the chip shortage impact in Q1 of this year. Watch or read below to see the rest of Farley's comments on the chip shortage and the anticipated trajectory of the automaker.
Farley: [The chip shortage is] a big deal right now, and so we think second quarter is really the trough for our chip supply shock, we think the second half is going to improve. We've cut our production almost 50% The chip issue is complicated, but we really see the facility that really impacted us in Japan. They're back up and running. They had a fire burn the whole plant down on March 19. They're back and running. And we're confident that in the second half will get most of the chips we need.
The demand is so high for new vehicles right now that I'm not sure we'll get all of what we need. We've rescheduled all of our summer vacations for our hourly workers into this quarter. So the third quarter and fourth quarter we're going to be flat on the production. It really come down to how many chips. And the chips we use in these vehicles are very complicated. We have hundreds and hundreds of them. And we tend to use the 22 nanometer and bigger chips because our requirements are different than your phone. Our our trucks have to work at 40 below in the North Slope of Alaska. So we tend to use those older feature set chips. And that's not the capacity is going in. You hear all these big announcements on chip capacity. Those tend to be the smaller, more advanced nodes. And we use a lot of those, but not all of those. So it's going to be a big transition to get more capacity for us in these the chips that we mostly use.
Host: Jim, I'd be remiss if I didn't ask about the competitive front here when it comes to chips for sort of took a hit in saying a lot of problems with chips. GM appeared to come across as being in better position. Is that fair? I think the street right now thinks that, in fact, GM's managing the chips better than Ford.
Farley: You know, I can't influence other companies, but here's this management teams commitment, we are going to tell Wall Street everything we know, OK, that's our plan is to be completely transparent how it falls out in the market. I think it's going to take time. So let's see how the numbers work out. But our management team, we want to share everything we know, and that's what we knew. And we shared it as transparently as we can. Look, we were able to offset almost all the chip impact. 200,000 units in the first quarter. So let's see what this team can do in the rest of the year.
*Bloomberg contributed to this content
—
Follow us on social media for the latest updates in B2B!
Twitter – @MarketScale
Facebook – facebook.com/marketscale
LinkedIn – linkedin.com/company/marketscale

Latest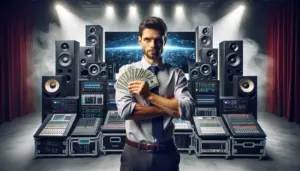 December 8, 2023
Mastering AV sales strategies in a global professional audio-visual (Pro AV) market, poised to reach $79.2 billion by 2028, requires much attention to detail. The surge in demand from corporate, government, and institutional sectors, driven by the need for enhanced productivity and efficient working environments, gives AV sales pros a lot of opportunity. In […]
Read More