From Service to Skies: FEAM Aero's Commitment to Veterans
In a world where the path forward can be uncertain, FEAM Aero is rewriting the narrative for our nation's veterans. With a legacy rooted in family values and a deep commitment to those who have served, FEAM Aero is more than an aircraft maintenance company—it's a launchpad for veterans' careers. Stepping into civilian life after military service can be daunting, but at FEAM Aero, it's an opportunity to soar. Our commitment to veterans isn't just a gesture; it's a tangible promise backed by action.
The journey from military service to civilian life isn't just about finding a job; it's about finding a purposeful career that aligns with the skills and dedication cultivated in the armed forces. At FEAM Aero, veterans are embraced as family, and their experiences are seen as valuable assets. We recognize the unique strengths veterans bring to the table—discipline, leadership, problem-solving, and teamwork. These attributes seamlessly translate into the world of aircraft maintenance, where precision and dedication are paramount.
But it's not just about recognition; it's about providing a platform for growth. FEAM Aero invests in its veterans with comprehensive training programs that equip them for success. This is more than just a job; it's a chance to excel, to rise within a supportive environment that values continuous learning and advancement. As one veteran aptly put it, "I found a home at FemE Arrow." This camaraderie, coupled with the opportunity to work with a top-tier industry leader, creates an environment where career aspirations take flight.
Transitioning from the military is a leap of faith, and at FEAM Aero, we're ensuring that it's a leap into a bright and promising future. Our commitment extends beyond mere words; it's embedded in our culture, our training initiatives, and our dedication to each veteran's growth journey. With a team that understands the unique challenges and triumphs of military life, veterans find a place where their service is not just respected but celebrated.
At FEAM Aero, we're not just offering jobs; we're opening doors to fulfilling careers. Our veterans don't just enter a workforce; they join a mission that values their skills, their sacrifice, and their potential. Join us in rewriting the narrative of veterans' careers. Take that step with FEAM Aero—a step toward the skies and beyond.
Latest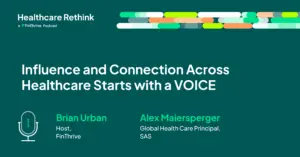 September 29, 2023
In the latest episode of the Healthcare Rethink podcast, presented by FinThrive, host Brian Urban sits down with Alex Maiersperger, the Global Principal Healthcare at SAS. Their conversation charts the role voice plays in influencing and connecting the healthcare industry. Maiersperger, who co-founded the Advancement League, shares his journey from being a healthcare optimist to […]
Read More