GE CEO Larry Culp Discusses the Impact of AerCap Deal
GE (NYSE:GE) just announced an agreement to combine its GE Capital Aviation Services business ("GECAS") with AerCap Holdings N.V. ("AerCap").
GE Chairman and CEO H. Lawrence Culp, Jr. said, "Today marks GE's transformation to a more focused, simpler, and stronger industrial company. Coupled with our continuing efforts to strengthen GE's performance, operations, and culture, this deal brings GE closer to our future—delivering value for the long term and leading the energy transition, precision health, and the future of flight."
"Today marks GE's transformation to a more focused, simpler, and stronger industrial company."

– General Electric CEO Larry Culp
Watch or read below for more of Culp's optimistic outlook on the deal.
—
Transcript
Culp: This really marks the transformation of GE into a pure play industrial, we think when we close the merger with AerCap, we end up in a position where we're more focused, where simpler to understand and frankly, we're a stronger company going forward. You highlighted the fact that it's an important. And I think value creating deal for both parties. The strategic logic of putting these companies together is compelling. The $30 billion consideration for us is good value. Helps us tend to our deleveraging. More importantly, we have a 46% position in the combined company.
You'd never exit at this point in the aviation cycle. We're not. We're investing in the combined company that Gus Kelly will lead. We're excited about that. And you also mentioned derisking. What this will allow us to do is take those proceeds and some additional moneys as we took investors through this morning, reduce another $30 billion of debt. That'll bring us over $70 billion of debt reduction since the end of 2018 so all the way around, we think it's a good transaction.
Why now? Like any deal, you really need a number of things to come together. I'd say one, GE's in a much stronger position to do something like this. Second, we have an outstanding partner in Gus and the AerCap team. And third, you need supportive markets. And with the bridge financing in place, I think the stage is set for us to do this. A good combination, a good answer for gas and certainly for GE.
"You'd never exit at this point in the aviation cycle. We're not."

– General Electric CEO Larry Culp
Host: You do have a 46% interest. But let's be honest. If you really thought there was a lot of upside there. And particularly more upside than in your other businesses, you'd be a buyer, not a seller.
Culp: Well, David, I'll always be honest with you, I promise, but if you look at GE today, we have been on a multi-year journey to significantly derisk the company and deleverage. And obviously a good bit of that activity has been focused on GE capital. And with this merger, we will take our GECAS business. It becomes a discontinued operation. In closing, the rest of GE capital will be merged with corporate will go to one simple single column set of financials.
So I would argue that we're investing. We're investing in the combined company, rolling over our equity, if you will, in the business that Gus will lead going forward. But in turn, this really does allow us to focus on renewables, on power, on health care and aviation. These large leadership franchises. We have the world over focused on the most important problems in front of the world today, be that the energy transition, precision health care and the future of flight.
So, again, I think it's a good deal on its face, but the impact, the strategic impact for GE can't be understated today.
Host: So let's talk about what comes next, because in your statement, you said this allows you to shift more to offense. And you mentioned investing in new technologies, particularly in energy, healthcare and flight. As you're taking a look at that. Are you looking at investing in r&d? Are you looking at acquisitions? What are you taking a look at?
Culp: All the above, David, I think what we want to do is not in any way declare mission accomplished on the deleveraging. That's not what today is about. And by the same token, all the good lean work that we've done to improve safety, quality, delivery and productivity across our businesses is just beginning. But all that said, with the progress that we have, I think delivered to date, we do have now the opportunity, let alone the capital, to spend more time looking to accelerate growth in the business.
In the near term hat's just making sure that we're doing a great job selling and marketing the products and services that we offer today while we conceive new ones. And invest longer term in breakthrough technologies. That's what's driven GE for a century, and that's clearly the recipe that we continue to be committed to. That said, being a better capitalized company will allow us to have more options with respect to capital allocation, be that acquisitions, let alone dividends, buybacks, all those options that aren't as real today for us as I know the management team and the board and for them to be down the road.
*Bloomberg contributed to this content
Click here for the full press release.
Latest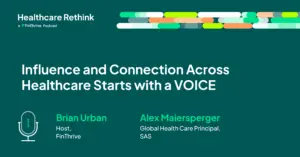 September 29, 2023
In the latest episode of the Healthcare Rethink podcast, presented by FinThrive, host Brian Urban sits down with Alex Maiersperger, the Global Principal Healthcare at SAS. Their conversation charts the role voice plays in influencing and connecting the healthcare industry. Maiersperger, who co-founded the Advancement League, shares his journey from being a healthcare optimist to […]
Read More