How Could Driving a Forklift from Thousands of Miles Away Possibly Be Safe?
Remote forklift operations are a growing trend today, where technological advancements allow operators to control these machines from thousands of miles away. Safety concerns, however, remain paramount in this discussion. After all, in 2020 alone, the National Safety Council found over 7,200 non-fatal injuries due to forklift accidents. In all logistics Industries, including construction, where forklift operations are an integral part of the job, increasing safety and reducing potential injuries is paramount. 
How could remotely driving a forklift possibly be safe? 
In the latest episode of Click. Connect. Drive., a Phantom Auto podcast, host Gabrielle Bejarano delves into this intriguing question. Joined by Ryan Clifford, Senior Director of Sales at Phantom Auto, and David Rasmussen, Principal Functional Safety Manager at Phantom Auto, joined Bejarano to comprehensively explore the technology and safety measures behind remote forklift operations. 
Highlights of their webinar discussion include:  
How does remotely operating forklifts compare to the current paradigm of manual operators

 

How the remote operation of vehicles eliminates or reduces the direct risks associated with having an operator physically on the vehicle

 

The role of advanced tools, like 360-degree views and other features unavailable to manual operators, in enhancing remote forklift operations

 
Ryan Clifford serves as the Senior Director of Sales at Phantom Auto. With a background in autonomous vehicles and a wealth of experience in the field, Ryan brings a unique perspective to the discussion. His co-guest, David Rasmussen, is the Principal Functional Safety Manager at Phantom Auto. An expert in safety standards, David brings a deep understanding of the measures necessary to ensure safe remote operations. Together, their insights illuminate the new frontier of remote forklift operation and its profound implications for industries worldwide. 
Latest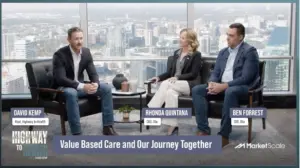 December 7, 2023
As of recent times, the healthcare industry has been progressively shifting towards value-based care, a model that emphasizes patient outcomes over the quantity of services delivered. This transition represents a significant shift that promises to enhance patient experiences and outcomes while controlling healthcare costs. With a growing emphasis on this approach, especially over the […]
Read More