How Surface Mode Shippers Can Compete in E-Commerce Logistics
Cerasis is excited to announce the release of an all new, exclusive, & educational resource "How Surface Mode Shippers Can Get Ready to Compete in E-Commerce Logistics" white paper!
This is a must read for shippers who are looking to move more modes of freight, including LTL, Parcel, Full Truckload, and Last mile in the e-commerce channel.
Surface Modes Shippers Poised to Go E-Commerce
E-commerce has transformed how consumers shop and purchase their favorite products, as well as try new products and services. The web influences more than 80 percent of all sales in today's age. Even customers shopping in brick-and-mortar stores must be conscious of how online platforms, responsible for e-commerce sales, may affect overall sales. Also, poor web design or lag time could dramatically increase e-commerce logistics costs by leading to more significant instances of cart abandonment or even lackluster customer support. Instead of just giving up and moving to a third-party marketplace, like Amazon, shippers can revitalize profit margins by understanding a few things about the driving force of increased e-commerce costs, how transparency can and how to improve profitability.
What Surface Mode Shippers Will Learn about E-Commerce Logistics In This White Paper
Why poor visibility into freight increases e-commerce costs
What to consider for warehousing options for e-commerce
Tips to Improve the Customer Experience with your E-Commerce Logistics Practices
How new technology will enable increased E-commerce competition
We hope this white paper arms you with information to start competing in the e-commerce arena with your fellow surface mode shippers.
To download this White Paper click here.
Latest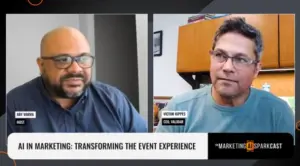 November 28, 2023
AI has been gradually changing the landscape of event technology at a very rapid pace. In an industry where staying ahead of technological trends is crucial, AI's impact on marketing and event management has become increasingly significant. As witnessed in the rise of account-based marketing and enhanced personalization, AI is effectively reshaping how events […]
Read More