Is Cleantech in Transportation a Worthy Investment?
Kevin Landis, Chairman of the Board for Wrightspeed and noted transportation analyst, joined host Daniel Litwin to outline potential opportunities for investment and growth for cleantech in the transportation industry.
Cleantech refers to exactly what it implies – the clean energy, sustainable, and environmentally friendly innovations powering a march toward a cleaner world.
In transportation, Wrightspeed is contributing to this effort by providing range-extended electric powertrains for heavy local transport. For example, the company recently launched an electric powertrain garbage truck, highlighting its emphasis on regional transit and public utilities and services.
"The first thing you'd look at is just cars – individual-ownership vehicles. Most of those are zero-emission vehicles 23 hours a day, because they're parked," Landis said.
"Even though there are a lot of them out there, each individual vehicle's footprint is pretty light. … Go out in front of your house on the day the pick up the trash, and you're going to see a really big, heavy vehicle stomping on the gas, stomping on the brakes, stomping on the gas, stomping on the brakes. You're going to see a huge amount of energy wasted."
This initiative could have a serious impact of "going green," but it also requires navigation of local policies, taxpayer money and more.
Overall, though, Landis said "we all know where we're headed," meaning that there's a general understanding that electric vehicles are the future and worth significant investment.
Follow us on social media for the latest updates in B2B!
Twitter – @MarketScale
Facebook – facebook.com/marketscale
LinkedIn – linkedin.com/company/marketscale
Latest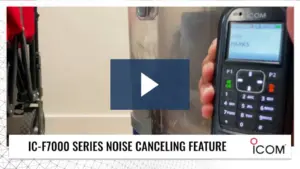 September 27, 2023
In this brief product demonstration video, ICom's IC-F7000 Series receives a mic test of its noise-canceling feature. Through the two demonstrations it is clear the IC-F7000 removes loud ambient noise for clear two-way communication.
Read More