Millennials' Demands Drive Airline Innovations
Millennials are more into experiences than material goods, and most major companies in major markets are responding accordingly. With one seeming exception: the airline industry. While millennials are willing to pay for luxuries such as high-quality in-flight wi-fi, the major airlines are taking away luxuries and trying to fit even more seats on planes to drive down ticket prices. At the same time, the demand for these amenities is in part driving the push for smaller seats to make up the price differences.
The solution seems to be a rise in smaller airlines. Some of those smaller airlines, like Joon, are offshoots of larger airlines. Air France created Joon to entirely focus on the demands of millennials. On Joon, you'll find trendy foods and flight attendant uniforms, USB ports in the seats, in-flight internet and wireless entertainment. Joon, along with Corsair and Jetfly, is also offering virtual reality with its use of AlloSky and its "Paper Airplane" program will allow you to crowdsource your flight—meaning you can get others to pay for your travel on Joon.
Half of millennials expect to have the same connectivity everywhere they go, and that includes when they're in the air. They expect to be able to watch their favorite shows, read their emails, and interact on social media no matter where they are. This is why JetBlue offers free in-flight wi-fi, which it can offer by partnering with Amazon, and the small airline, Level, allows passengers to pay for food, drinks, amenities, wi-fi, and even duty-free goods with your mobile device through its in-flight entertainment system. JetBlue similarly has a system that allows passengers to use their mobile devices as remote controls and gaming devices.
Of course, Millennials don't find all of their entertainment online. In addition to an expectation of great connectivity, they also enjoy live performances. Now, if you think that's not a reasonable expectation to have when you're on a plane, you are apparently unfamiliar with Southwest Airlines. They have taken the idea of providing an experience to entirely new heights with their Live at 35 program. The Black Cadillacs, Echosmith, Better than Ezra, Plain White Ts, and Imagine Dragons have all performed live in the aisle at 35,000 feet. While Ian Axel of A Great Big World wonders if while he's on a flight, "I would want to be interrupted by me," the audience does seem happy to be entertained by the band.
While every airline offers some kind of food and drinks, including beer and wine, several airlines are starting to offer craft beers, with some small airlines like Frontier pairing with local breweries to create that local experience. Others try to provide that local experience by providing regionally-sourced cuisine. You can now enjoy organic and farm-fresh foods at 35,000 feet.
The demands of millennials are changing the experiences we have when we fly. Millennials of course are not the only beneficiaries. We are all benefitting from better connectivity, better food, and even live entertainment.
Latest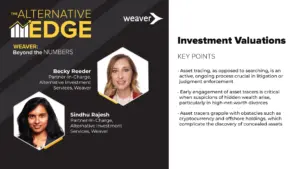 December 4, 2023
In this episode of The Alternative Edge, a Weaver: Beyond the Numbers Podcast, host Becky Reeder, an audit partner and co-leader of the alternative investments practice at Weaver, engages with Sindhu Rajesh, an Alternative Investment Services Partner with Weaver. They unpack the complexities of venture fund valuations, offering critical insights into industry dynamics and best […]
Read More