On the Road – Tesla Style
Let's talk about Tesla. The electric car company founded in 2003 has arguably made headlines nearly every year since their first production of an EV, the Roadster, in 2008. And despite the sharp and steady decline in stock market value over the past nine months, Tesla has posted strong Q4 sales, in fact, the highest in the world.
       So, what is happening behind the scenes to make Tesla stock fall short of expectations? For one, the man behind the curtain is rattling some cages with various business holdings, *cough* Twitter *cough*.
Here to share his thoughts on Tesla's current situation and look toward the future is Clyde Boyce, Chairman of Advisory Board, EV Chargers and Installation LLC.
Clyde's Thoughts:
"Good afternoon. Let's talk a little bit about what's going on with Tesla right now. As we all know, Tesla is more than just an EV car manufacturer. They have the largest charging network in the country and the most powerful charging network in the country. They have the cyber truck. They're beginning to produce semi-trucks.
They have pretty much dropped out of the autonomous car business, but they also manufacture batteries. They have worldwide partnerships with the production of batteries. The company in of itself has the highest margin on the sale of cars of any company in the world. And they had the highest sales in December in the fourth quarter of any car company in the world. So they're doing just fine now in terms of the stock having dropped 75% in about the last nine months. Why? Because Tesla's having production issues because many people are upset with Mr. Musk for taking his eye off the ball on Tesla for Twitter, and they don't really like that. They think that's having an effect on the car company, which truly it probably isn't.
So I don't think anybody really needs to worry too much about the stock coming back. I think it will, and I don't think they need to worry at all about Mr. Musk going from the number one most valuable man in the world to number two. He's going to be fine as well. Thank you."
Latest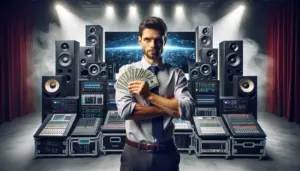 December 8, 2023
Mastering AV sales strategies in a global professional audio-visual (Pro AV) market, poised to reach $79.2 billion by 2028, requires much attention to detail. The surge in demand from corporate, government, and institutional sectors, driven by the need for enhanced productivity and efficient working environments, gives AV sales pros a lot of opportunity. In […]
Read More