Port Everglades steps up its game in the international supply chain
This article originally appeared on Cargomatic.com.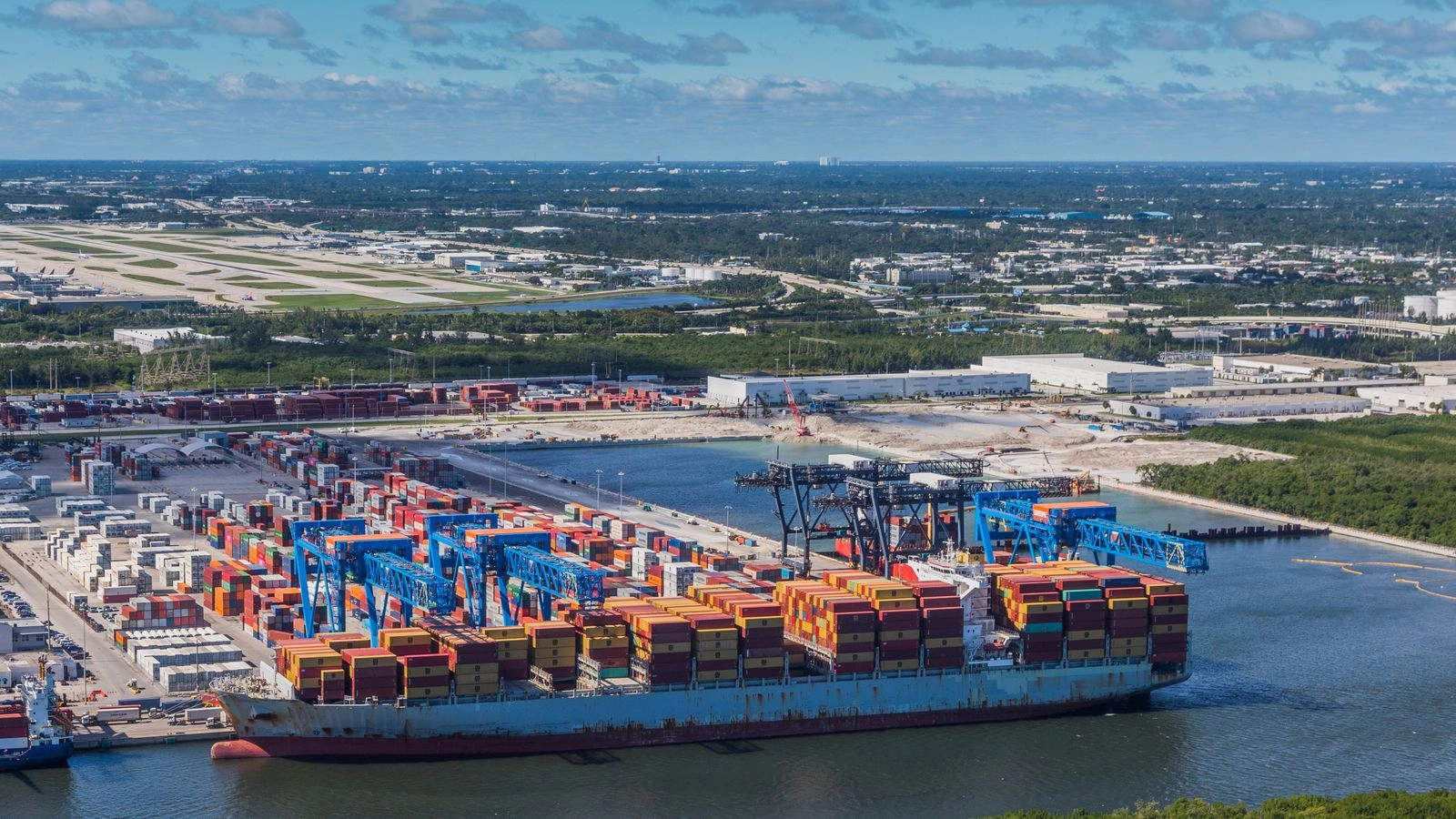 Florida's Port Everglades is fast becoming a center of North American intermodal traffic, and a possible link in new ways of bypassing busy U.S. West Coast gateways.
The port averages one million 20-foot equivalent units (TEU) a year, boasts direct access to the interstate highway system and has rail access to much of the country due to the Florida East Coast Railway (FEC) and its near-dock Intermodal Container Transfer Facility (ICTF).
The 43-acre ICTF increased FEC's available intermodal capacity from 100,000 to 450,000 lifts a year when it was first unveiled in 2014. That added capacity has served the port well in the years since then as container numbers have climbed.
In 2021, its most recent report, the U.S. Army Corps of Engineers ranked Port Everglades number 15 in the country, with total loaded throughput of 726,871 TEU—putting it just behind the Port of Baltimore, but ahead of the far better-known ports of Mobile, New Orleans and Boston.
Port Everglade's status got a significant boost on October 4, however, when the Union Pacific (UP) railroad announced the start of a new intermodal rail service connecting the rapidly growing industrial markets of Mexico with areas of high demand in the U.S. Southeast.
The new service [see UP map below] starts on the Grupo Mexico line in Silao and Monterey, Mexico, and extends through the U.S. southeast, eventually meeting up with Norfolk Southern (NS) and FEC, operator of the ICTF at Port Everglades.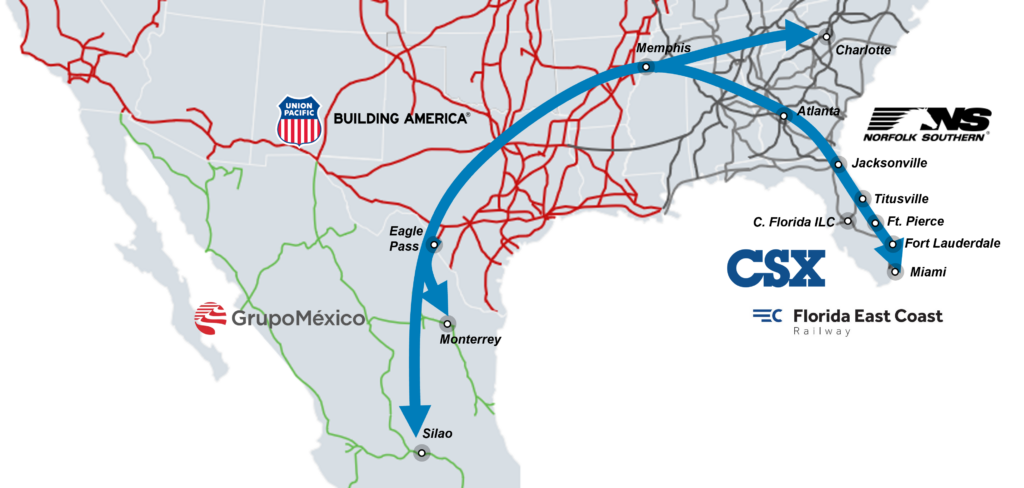 Photo Credit: Union Pacific
The new service itself also can be linked [see UP map below] all the way to Mexico's west coast and its key container ports of Lazaro Cardenas and Manzanillo, which have been used in recent years to bypass the busy ports of Southern California.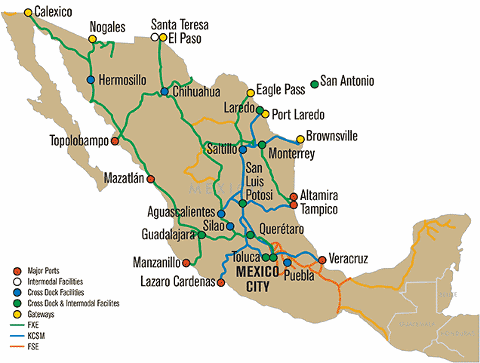 Photo Credit: Union Pacific Mexico
The UP announcement came on the heels of an earlier declaration by NS that it planned to expand its current service on October 2 by adding two FEC terminals—the ICTF at Port Everglades and another at Fort Pierce—to its current calls at FEC terminals in Titusville and Miami.
NS said the change adds flexibility to the customers it shares with FEC, but more importantly, it expands direct access from Florida to Chicago, Cincinnati, Harrisburg, Kansas City, Memphis, St. Louis, Lathrop and even Southern California.
By coincidence, October 2 also marked the arrival of the first call to Port Everglades' Florida International Terminal by the new FLX service of the Ocean Network Express (ONE) shipping line.
"The new FLX service, in conjunction with ONE's AL5, ANG, CX5, EC1, EC2 and Marex services, provides our North America customers with a full range of service options to and from South America," ONE said.
ONE is not alone among ocean carriers in recognizing the growing importance of Port Everglades in the North American supply chain industry.
In May, the Mediterranean Shipping Company (MSC) announced that its Santana service would begin calling at Port Everglades instead of Port Miami starting on June 8.
As benefits of using Port Everglades, MSC cited vessel schedule reliability due to fast berthing; easy pickup and return because of sufficient storage space and efficient gate systems; and timely availability and access to cargo.
The new rotation [see MSC map below] also puts Port Everglades in direct contact with the Far East: Haiphong – Shanghai – Ningbo – Busan – Rodman – Caucedo – Port Everglades – Charleston – Baltimore – New York – Boston – Singapore.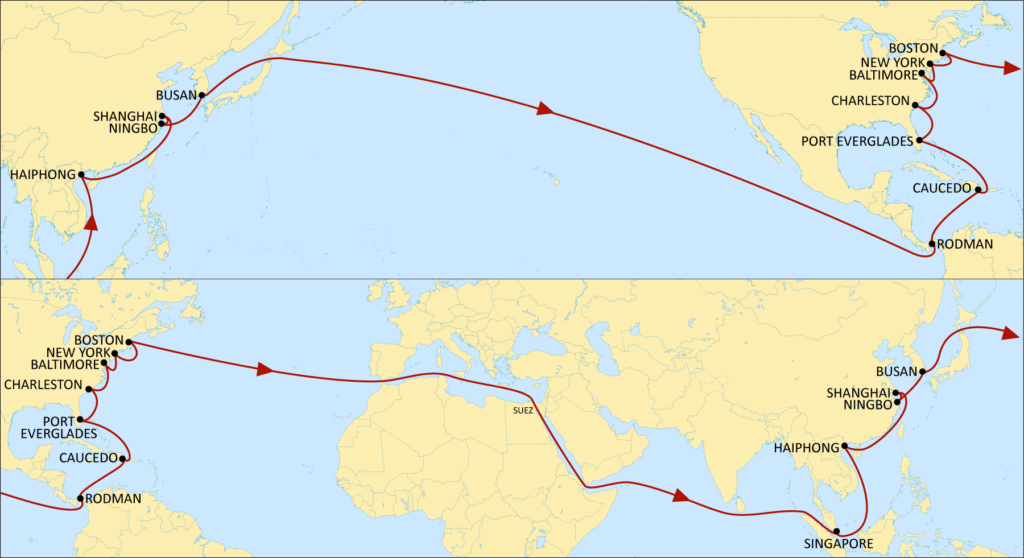 Photo Credit: MSC Santana
Keeping pace with all of these developments in throughput, business opportunities at Port Everglades are said to be expanding with the construction of two warehouses that will soon offer some 400,000 square feet of additional distribution and logistical services.
Up to now, Port Everglades has been a key point in trade between the U.S. and Latin America and the Caribbean, areas that add up to some 89% of its traffic [see chart below].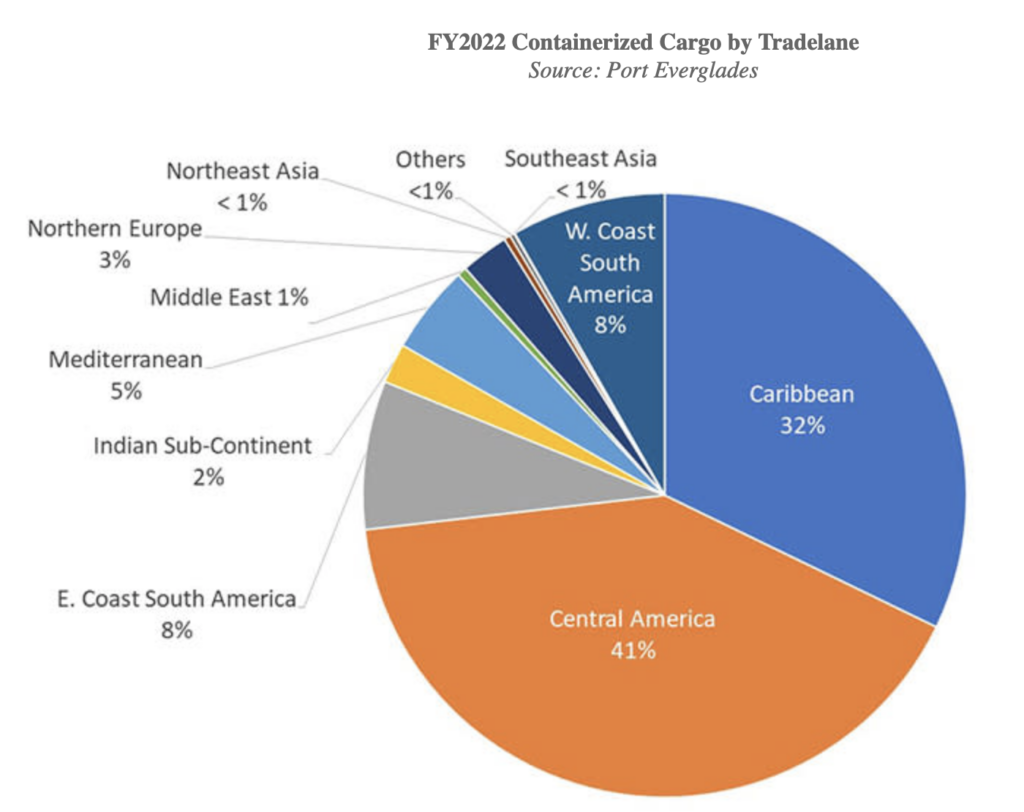 Photo Credit: Port Everglades
But with its recently acquired place in MSC's Santana rotation as well as the new rail link extending all the way to Mexico's west coast ports of Manzanillo and Lazaro Cardenas, Port Everglades appears to be stepping up its international game.
Latest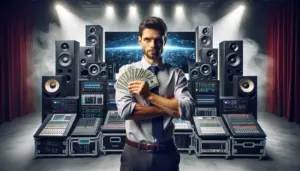 December 8, 2023
Mastering AV sales strategies in a global professional audio-visual (Pro AV) market, poised to reach $79.2 billion by 2028, requires much attention to detail. The surge in demand from corporate, government, and institutional sectors, driven by the need for enhanced productivity and efficient working environments, gives AV sales pros a lot of opportunity. In […]
Read More