Public Transit System Success Hinges on Land Use Patterns. Are We Ignoring the Key to Efficient Urban Networks?
"Getting ahead of ourselves can lead to missteps." This cautionary principle is particularly relevant when discussing the public transit system. Designing and constructing efficient systems without considering the underlying land use patterns that drive ridership can be a recipe for underperformance. So, how can we ensure our transit networks reach their full potential?
As urban populations continue to swell, well-designed transit systems are vital for sustainable development, encompassing economic, social, and environmental aspects. Tim Simon, a service planner at global infrastructure firm AECOM, is perfectly positioned to bridge the gap between planning, development, and implementation. He firmly believes that transit conversations must address the land use markets that support and drive them.
But what happens when transit systems and networks are developed without taking the underlying land use into account? To avoid this pitfall, Simon emphasizes the importance of creating a public transit system that appeals to as many riders as possible. This includes providing seamless payment options, well-maintained stops and stations, and reliable frequency.
Tim's Thoughts:
"When I'm asked what the right model is for encouraging transit usage in our current transportation paradigm, I'm reminded that a model can become useless due to an intervention. I believe we need to adapt our models and incorporate new technology and approaches to transit and the underlying land use markets that influence it.
Let's consider the example of Via in San Antonio. Despite being one of the largest cities in the country without a rail system, they receive the least amount of funding compared to their counterparts in Dallas, Houston, and Austin. However, they have successfully adapted by investing in their version of bus Rapid Transit, which is a more affordable high-capacity transit option they appropriately call "Advanced Rapid Transit" or ART.
Not only is this option more cost-effective, but it is also highly adaptable, allowing for future mode adjustments as technology advances. This serves as a model for encouraging transit in our current paradigm."
Article written by: Azam Saghir
Latest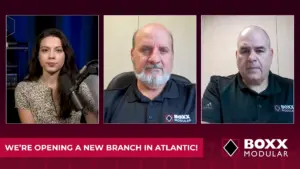 December 4, 2023
In an era where construction innovation is reshaping the industry, modular construction's growth continues to rise. In this episode of Built Modular, Boxx Modular's strategic expansion into Moncton, Atlantic Canada takes center stage. Host Gabrielle Bejarano welcomes Charles Landry and Ray Girouard to explore the implications of this venture. Bejarano, Landry, and Girouard discuss […]
Read More