Rolling Billboards Help Fleets Leave a Lasting Impression
Without a logo or graphic on the side of your trucks, it can seem as though you are driving around with a wasted opportunity for key advertising. Some fleet managers, however, are worried that the cost of wrapping their vehicles may outweigh the return on investment. Understanding the costs as well as the options available can help determine if wrapping your vehicles is the right option.
As a fleet, the appearance of your trucks is first and foremost what customers will associate with your brand's image. If you choose to utilize a wrap for advertising and branding purposes, it is going to be crucial that the trucks on which the images are placed are in good condition. Dented fenders, trash-filled cabins or an overall dirty appearance is not what you want your customers thinking of when they see your logo. Before investing in a quality wrap, it is important to make sure your entire fleet is up to your company's standards.
That being said, however, fleet graphics are an effective way to impact your key communities. In fact, the American Trucking Association found that 98 percent of consumers believe fleet graphics on the sides of trucks create a positive image of the company. When was the last time 98 percent of consumers agreed on anything?
From a purely marketing driven standpoint, wraps are a more impactful form of advertising than billboards, direct mail and even radio. On any given day, the average vehicle advertisement will attract 70,000 views, according to the Outdoor Advertising Association of America. Not only that, but surveys find that individuals find vehicle advertisements to be more engaging and more memorable than more traditional forms.
The dollars spent on wraps for vehicles also go much farther than those spent on traditional marketing. While an ad on the radio may reach your target audience, it only does so for a limited time. With graphics and branding on your vehicles, impressions are made every time one of your trucks runs a route.
On The Move understands that seeing a high return on investment is crucial for marketing solutions. That is why they take care to craft creative, brand-driven messaging that is uniquely tailored to each customer. With design and installation specialists assigned to each project, they ensure that your rolling billboard will make the largest impact possible.
To learn more, visit http://www.onthemovetrucks.com/our-graphics-packages today!
Read more at onthemovetrucks.com
Latest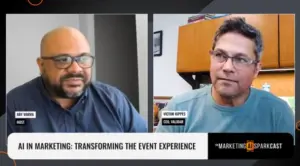 November 28, 2023
AI has been gradually changing the landscape of event technology at a very rapid pace. In an industry where staying ahead of technological trends is crucial, AI's impact on marketing and event management has become increasingly significant. As witnessed in the rise of account-based marketing and enhanced personalization, AI is effectively reshaping how events […]
Read More