Russian Airlines, Aeroflot, Makes $5 Billion Deal for MC-21 Aircraft
Russian Airlines, also known as Aeroflot, recently signed a $5 billion deal for a set of 50 MC-21 medium-range aircraft. Rostec unit Avia Capital Service will lease the aircraft for a 12-year period with the first wave of deliveries slated for the first quarter of 2020. By 2026, the order will be fulfilled and Aeroflot will fly the craft both domestically and internationally.
Each MC-21-300 aircraft will carry 169 passengers, with 16 seats reserved for business class and the remainder devoted to economy. The first 25 planes will arrive with engines built outside of Russia, while the remaining half will come equipped with Russian PD-14 engines, currently in certification testing. The MC-21 utilizes the latest materials and Russian systems, including titanium and composite parts domestically manufactured by Rostec.
Leaders at Aeroflot see the deal as a landmark moment for Russian aviation around the globe. Aeroflot partners, including Rostec, see this moment as a comeback for Russian aviation, and the MC-21 itself as a breakthrough for the industry.
Latest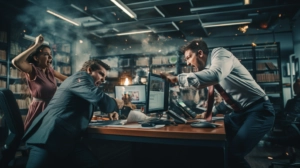 September 22, 2023
The kind of news that is delivered everyday serves as a grim reminder of the escalating violence across the U.S. Evidently, the need for proactive measures to ensure safety has never been more pressing. Such violence is not limited to any particular locale. It's actually permeating in so many different areas once considered […]
Read More