Smart Cities Connect: Insights from the Floor
The digital era transformed healthcare solutions. Some of this innovation has come from people who might not otherwise have joined the healthcare industry had it not been for its embrace of these digital technologies.
One company making an impact on the tech side of medicine is Sonavi Labs, a Baltimore, Maryland-based firm that has been awarded at multiple shows (including Smart Cities Connect) for its digital stethoscope. The product allows users to detect lung diseases without having to see a physician and is particularly useful in non-traditional environments like in war zones, where medical expertise can be sparse.
What Are You Displaying At The Show?
Ian McClane, Chief Technology Officer: We developed a smart stethoscope device that can automatically detect abnormalities in the lungs. We also have onboard processing algorithms that can remove background noise and can be used in any type of noise environment. Particularly with defense, there are challenging clinical environments. We came here to find partners that see that value of this device in the field with Army medics and even untrained personnel being able to take recordings and give them actionable data and feedback.
Winning Awards At Smart Cities Connect
Ian McClane: So, the award came as a bit of a surprise. Once we submitted an application for [the smart stethoscope] device and to be able to present this product at the show, as a part of that talk they asked us a ton of questions regarding our device and the use cases, not just in military, but across consumer and healthcare markets. We focus a lot on the global health space, so how we can help patients in the military and other countries as well. We were notified that they value the impact of our work.
Why Did You Focus This On Application for Military Use?
Ian McClane: I think it is because the military is what you think of when you think of a nontraditional medical environment, it can be a very difficult environment.
We designed this initially for community and global health workers who do see challenging environments and it was then a very easy transition over to focusing on the military once people opened our eyes and started giving us the feedback for that being an ideal setting to focus on and giving us the right contacts.
Background On The Company
Ian McClane: This company is actually based off of my Ph.D work at John Hopkins University. My space [of expertise] is this interesting point in between software, hardware, and medicine. I focused on developing hardware and software that can be applied to medical problems. So, my entire Ph.D is based on developing this product and proving it out into various healthcare settings including several different countries, several types of diseases.
Driving Into A New Market
Olli is an electric-powered autonomous bus designed and created by Local Motors. The self-driving vehicle fits eight passengers and uses LiDAR, Radar, camera as well as GPS to find its way through city streets and react to other drivers, pedestrians and animals. The sensors are able to detect objects from up to a football field away.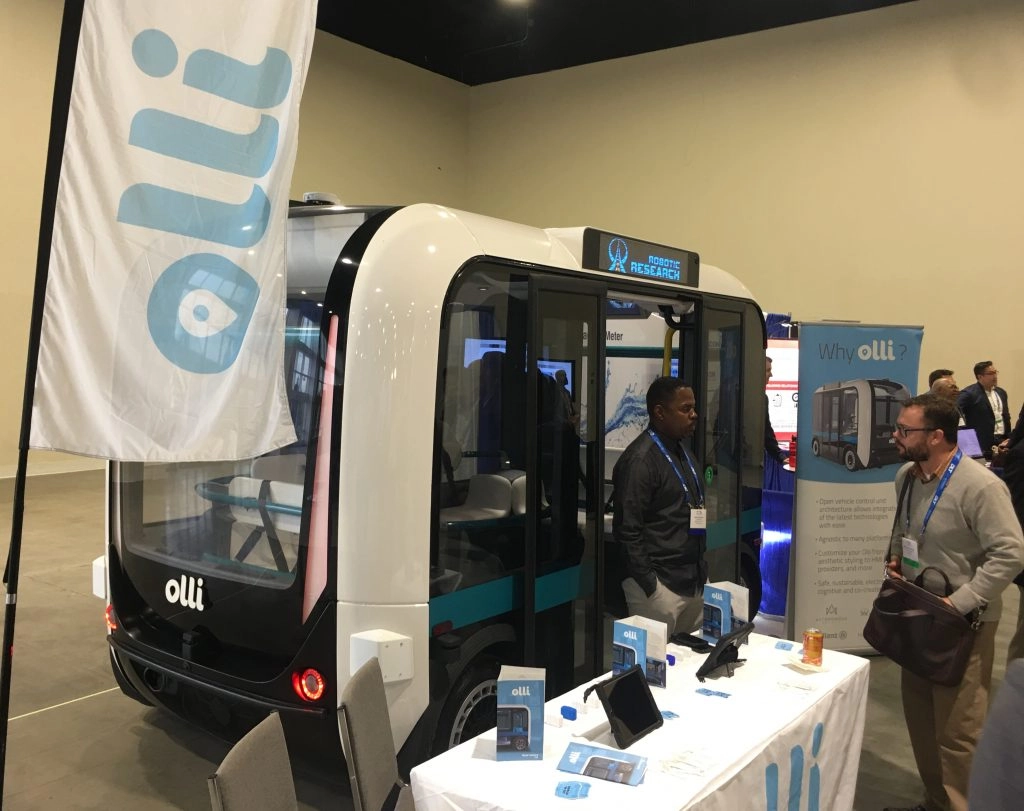 Riders can ask Olli for a restaurant recommendation or even have the bus tell a joke. Company spokespeople at Smart Cities Connect said the next step for the bus is working with governments to approve its use and meet the public transportation needs of local citizens.
How Does This Work?
Nikki Jones, Marketing Manager: Olli is a self driving electric shuttle that is ideal for college campuses, hospital campuses, airports, theme parks. Olli can also serve as a first/last mile solution.
Behind The Technology
Nikki Jones: The shuttle is equipped with a range of sensors from LiDAR, Radar, camera, as well as GPS. The sensors are able to detect objects from up to a football field away.
When the vehicle is programmed and mapped for the area it is running in, it has the ability to sense if there is a vehicle nearby as well as a person.
We're in autonomous mode on a public road! #SCC19 pic.twitter.com/ASSqLAtER3

— MarketScale (@MarketScale) October 9, 2019
The Obstacles of Rolling This Out
Nikki Jones: Regulatory-wise, there are some states that haven't created the necessary pathway for AVs (autonomous vehicles) to be on the roads. But that is certainly something that maybe changing and is already in the works. We are on the lookout as we are looking at working with different cities, municipalities, and businesses that are looking to get Olli on their roads.
We recently deployed on the roads of Peachtree Corners, which is a city just outside of Atlanta, Georgia. We are operating on city roads in a designated AV lane in mixed-use traffic so that is an example of a city and state that is pro Autonomous Vehicle.
What Gets You Excited About This In The Real World?
Nikki Jones: We look forward to being able to provide a mobility solution that is efficient. Especially one that actually gives people a little bit of their time back. For example, as a first/last mile solution, someone would be able to park their car offsite and then jump on this autonomous shuttle and be dropped off the door of their office or facility. Not only will that reduce the traffic that is on the roads but helps to reduce emissions as well.
Latest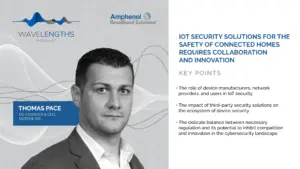 November 28, 2023
Since the introduction of smart devices, the world has increasingly become dominated by interconnected devices but IoT securitydemands are also growing. The "connected home" has shifted from what was once a futuristic concept to reality. With the global smart home market projected to reach $135.3 billion by 2025, the conversation around the security of these […]
Read More