The LeddarTech Lab: The Importance of Partner Ecosystems in Tech
Vital partner ecosystems must exist and thrive to achieve autonomous driving as a scalable solution for transportation. Heinz Oyrer, Director of Strategic Partnerships at LeddarTech, and Christopher Wiegand, Product Manager at dSPACE, spoke on the strength of LedderTech and dSPACE's relationship.
"The very basic idea of a partner ecosystem is to create synergies," Wiegand explained. "And an ecosystem is a network of companies aligned to added value. And the added value of the offering of the ecosystem typically exceeds the value of the added individual activities of offerings of each individual company." The goal of ADAS technology is too complex for any one company to solve, so an ecosystem needs to exist to achieve these synergies.
"Today's product markets are such a complex web of technologies and intelligence that we see a strong future for ecosystems and promising opportunities for them to create competitive advantages," Oyrer said. "So, we could better serve customers, create new experiences, and drive innovation and disruption."
According to Wiegand, the idea of working together to create an ecosystem so the tech industry can benefit is a notion that's taking hold when speaking recently with an automotive manufacturer. "The client said we need to work more closely together and keep our eye on overarching synergetic goals. In our culture, there is too much competitive thinking. And especially when we are talking about the validation process. We generally concentrate only the individual components." Wiegand said that ecosystems are necessary to break these competitive habits to evolve the technology.
Latest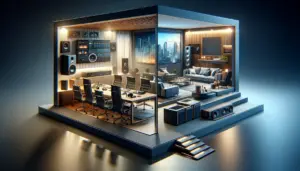 November 27, 2023
In this episode of "Pro AV Today," host Ben Thomas sits down with Audra Kinsley of Sonos Professional to unpack a topic that's causing (sound) waves in the audio industry: the fusion of commercial and residential audio systems. As we navigate through a landscape where consumer and professional audio worlds are increasingly intersecting, Sonos steps […]
Read More